Location:
KL Convention Centre
Highlights:
90 mtr Long Underwater Tunnel, Touch Pool
How To Reach:
One can reach Aquaria KLCC by hiring taxis or by boarding trains, buses from the city.
Aquaria KLCC is a place where underwater world is showcased beautifully in Kuala Lumpur. Located in KL Convention Centre, it is a place worth discovering that what actually it is like to glide through the tropical rainforests. One can reach here through the underground interlink from Tower Records in Suria KLCC. The Aquaria has showcased some of the most entrancing aquatic creatures from all parts of the world. The park is sprawled in 60,000 sq ft (6,000 m²) of area in two levels.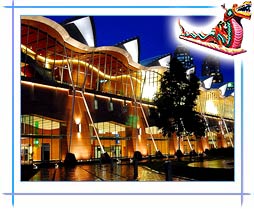 It's about the journey of water from land to sea. So, get ready to go on a stimulating voyage from the majestic mountains where rivers originate and cascade to lower expanse, and then pass through green rainforests to the huge mangroves until they reach the colorful coral reefs and the portentous deep blue sea. Having more than 5,000 different creatures and the newest interactive technology, Aquaria KLCC will fuel your senses and mind to the mesmerizing world under the sea.
This huge aquarium features a 90-metre long underwater tunnel, a 10-ft long colossal Arapamia, a touch pool and one Aqua Theatre. Throughout the journey, you can stop at anytime to examine the living creatures and their habitat. At the Touch Pool, you'll actually get to touch baby sharks and stingrays. KL Aquaria, the 90m long acrylic tunnel, marks the climax of this exciting journey where brilliant view of ocean is presented.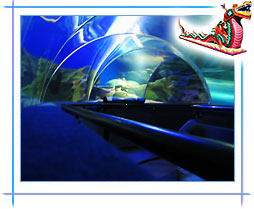 This 55mm-thick tunnel is curved and made to endure the enormous pressure of 2.7 million liters of water. A hidden shipwreck (a replica of the Royal Nanhai) is also visible that is occupied by the thick population of coral reef. In fact, here you can feed the fish, including rays and large sharks, by taking the help of trained divers. Its worth looking like how so many creatures of different shapes and sized live cordially in this replicated natural habitat. To sum up, Aquaria KLCC is a place not-to-be-missed on your trip to Kuala Lumpur.