Location:
Next to Merdeka Square
Established In:
1884
Significance:
It is one of the oldest clubs in Malaysia.
How To Reach:
One can reach here by hiring taxis, or by boarding buses, trains from the city.
The Royal Selangor Club, literally Kelab Di-Raja Selangor in Malay, is to be found on the northern fringe of the Merdeka Square, overlooking the imposing Sultan Abdul Samad Building in Kuala Lumpur. Founded in 1884 as Selangor Club by the British, it is a social club that earlier used to be the rendezvous for sophisticated and high-ranking members of the British colonial society. The membership to this club was largely determined by high educational and social standards, sooner than race or citizenship.
Initially, the organization was started in the small wooden building near Padang. Later, in 1890, the small edifice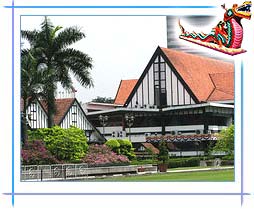 was replaced by a two-storey structure, which was designed by AC Norman. However, in 1910, it was redesigned by Arthur Benison Hubback, the same architect who designed the Kuala Lumpur Railway Station. At this time, two additional wings were made on either side of the building in the Tudor style.
With the passing time, the membership to the club increased and also started to include distinguished Malaysian civil servants, such as, judges, lawyers and other important people. Its proximity to the High Courts made it a convenient meeting place for the legal fraternity. In the early 1900s, the Club was also used for theatrical performances because there was no other hall available. Since its initial years, the Royal Selangor Club has organized a variety of sporting activities, including cricket.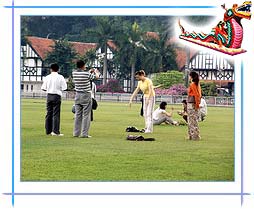 The Long Bar was the area from where the sporting activities could be watched, but it was restricted to men only because they used to get excited after drinking. Though later the barring of women from the club was ended. The Royal Selangor Club has been subjected to floods several times in the 20th century, yet it was managed to refurbish every time. In 1970, the main section of the club was demolished in a fire which was fixed later. Another wing to the building was built in 1980 at the cost of M$6 million.
Rated among the oldest clubs in Malaysia, the club was granted a royal status under the benefaction of Sultan Salahuddin Abdul Aziz Shah in 1984. The Royal Selangor Club Kiara Sport Annexe is a division of the Club that is located in Bukit Kiara, about 5.5 kms away from the original clubhouse. In 1987, it was given as reimbursement after the original club's field was acquired by the Kuala Lumpur City Hall. Its structure is designed like the original club, with the main club building facing a large field.