Location:
Jalan Punchak, Off Jalan P.Ramlee
Built During:
1991-95
Altitude:
421 meter
Attractions:
Revolving restaurant, Pedestrian Mall
Significance:
KL Tower symbolizes Kuala Lumpur
How To Reach:
One can easily reach KL Tower by hiring taxis, or by boarding buses, trains from the city.
Kuala Lumpur Tower, formally called Menara Kuala Lumpur, is an elevated tower to be found in Kuala Lumpur. Built during 1991-95, the tower is utilized for communication purposes. On 1 Oct' 1996, the Kuala Lumpur Tower was officially inaugurated by the Prime Minister of Malaysia. It features an antenna, which soars up to 421 m (1,381 ft); thus, making it the world's fifth tallest tower at present. Its roof lies at the height of 335 m (1,099 ft).
The rest of the tower beneath comprises a staircase and an elevator to reach the upper area, which has a revolving restaurant that offers guests a panoramic view of the city. Annually, races are prearranged where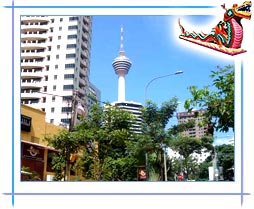 contestants race up the stairs to the top. For seeing the crescent moon, the tower turns into the Islamic falak observatory to celebrate the fasting month of the Muslims. Also referred as KL Tower, the construction of the tower was actually a 3-phase process that started on Oct' 1991.
While the first phase saw widening of the Jalan Punchak and excavation of soil, the second phase started with the construction of the foundation and basement of the KL Tower. During its construction, for 31 hours about 50,000 cubic meters of concrete were poured incessantly, making a record in the construction industry of Malaysia. In May 1993, the third phase of constructing 'superstructure' was started which included creation of the tower shaft and the tower head.
While the tower head was getting finishing touch, the construction of the touristic building started. This tourist attraction is festooned with designs that signify the country's Islamic culture. At the upper ground floor,
the main porch is adorned with wonderful glass-clad domes which shine like solitaires. Each of the domes was designed and arranged like the Muqarnas by the Iranian craftsmen. In short, KL Tower is an architectural wonder that should not-be-missed-out during a trip to Kuala Lumpur.
Some Interesting Facts About Kuala Lumpur Tower