Johor is the third largest and one of the most developed states in Peninsular Malaysia. It is situated at the sudden tip of the peninsula, just across the Strait of Johor from Singapore. Its capital is Johor Bahru. Johor possesses a wide range of attractions-metropolitan culture of Johor Bahru, forests of Endau-Rompin Park, village of Desaru, picturesque islands in the South China Sea-and has something to offer to tourist of every hue.
History
The word Johor is taken from the Arabic word, 'Jauhar', which literally means 'Precious Stones'. The name illustrates the influence of the early Arab traders who traded spices in Johor. The multifaceted culture and ethnic mix evident in Johor today can be traced back through the centuries when it was fought over by the Malays, Portuguese, Chinese, Dutch and British sometimes on grounds of religion but more often because of trade.
With the Portuguese capture of Malacca in 1511, the Malay kingdom re-established itself in Johor. The history of Johor from the late 1500s to the late 1600s is characterized by a series of succession struggles interspersed with strategic alliances struck with regional clans and foreign powers to maintain its political and economic hold in the Straits. In 1641 Johor in cooperation with the Dutch succeeded in capturing Malacca. By 1660, Johor had become a flourishing entrepôt, although weakening and splintering of the empire in the late seventeenth and eighteenth century reduced its sovereignty.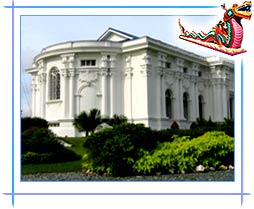 In 1819, the Johor -Riau Empire was broken into the mainland Johor, controlled by the Temenggong, and the Sultanate of Riau-Linggi, controlled by the Bugis. This is when the history of modern Johor began. In 1855, under the terms of a treaty between the British in Singapore and Sultan Ali of Johor, the control over the State was formally ceded to Dato' Temenggong Daing Ibrahim, with the exception of the Kesang area (Muar), which was finally handed over in 1877. Temenggong Ibrahim opened up Bandar Tanjung Puteri (later to become Johor's present-day capital) in south Johor as a major town.
Temenggong Ibrahim was succeeded by his son, Dato' Temenggong Abu Bakar, who later took the title Seri Maharaja Johor. In 1866, he was formally crowned the Sultan of Johor. Sultan Abu Bakar of Johor(1864 - 1895) was the one who gave Johor its own constitution and developed its efficient administration system and constructed the Istana Besar, the official residence of the Sultan. Due to these achievements, Sultan Abu Bakar is known by the title "Father of Modern Johor".
The increased demand for black pepper and gambier in the nineteenth century lead to the opening up of farmlands to the influx of Chinese immigrants, creating Johor's initial economic base. The Kangchu system was put in place. Under the British Resident system, Sultan Ibrahim, Sultan Abu Bakar's successor, was forced to accept a British adviser in 1914. D.G. Campbell was dispatched as the first British adviser to Johor. During the Second World War Johor Bahru was the last city in Malay Peninsula to fall under Japanese occupation. In 1948, Johor joined the Federation of Malaya, which gained Independence in 1957.
Climate
Johor has tropical climate without extremely high temperatures. Days are very warm, while nights are fairly cool. The main rainy season in Johor runs between November and February.
Best Time to Visit
Though Johor can be visited any time of the year but it is better to avoid rainy season.
Tourist Attractions / Places to See
Johor Bahru:
Johor Bahru is a vibrant metropolis offering a host of sporting events, pulsating nightlife, lots of shopping and accommodation options, and a wide array of fine restaurants. The city also contains a number of cultural and historical attractions, including the Sultan Abu Bakar mosque, the imposing civic space of the Dataran Bandaraya, the State Secretariat Building, and most notably the Royal Abu Bakar Museum in the Grand Palace.
Royal Abu Bakar Museum:
It is said to be one of the finest museums in the world in terms of the ambience. The Royal Abu Bakar Museum occupies the Istana Besar, or Grand Palace, built by Sultan Abu Bakar in 1866. The museum was founded in 1990 by Johor's present ruler, His Majesty Sultan Iskandar, and its collection consists of the treasures of the Royal Family. In addition to an extensive art collection, the museum displays the ceremonial regalia, personal memorabilia, furniture, objets d'arts, and cultural artifacts accumulated by the Royal Family over the course of its reign.
Muar:
Muar is a picturesque town along the western peninsular coast. Also known as Bandar Maharani, Muar is in many ways a smaller version of Malacca. Muar is particularly renowned for its outstanding cuisine, with many restaurants as well as food stalls serving irresistible local delicacies.
Mount Ophir:
The legendary beauty of Mount Ophir has made it one of Johor's most popular attractions for hikers and birdwatchers. The mountain is also home to some lovely waterfalls and is an ideal place for camping and picknicking.
Pontian and Kukup:
These two tiny fishing villages along Johor's southwestern coast offer some of the best fresh seafood in the region. The houses, as well as the restaurants, are built in traditional style on stilts at the edge of the water.
Tanjung Piai:
Tanjung Piai, situated in the midst of an extensive area of mangrove forest, provides visitors with a glimpse of the richness of Malaysia's coastal fauna as well as an experience of traditional kampung life.
Endau Rompin Park:
Endau Rompin is one of the world's oldest tropical rainforests. The park covers 80,000 hectares of virgin jungle, which straddles the states of Pahang and Johor. … (More).
Desaru:
Desaru, or the "Village of Casuarinas," is a twenty-five kilometer stretch of sandy beach fringed by casuarina trees. It lies on the southeast corner of Johor, next to lush tropical forests, and is quite popular with wealthy Singaporeans and Malaysians. A host of facilities for sea sports are available in Desaru, including swimming, snorkeling, boating, canoeing, windsurfing, water-skiing, and catamaran sailing.
Pulau Rawa:
The beautiful island of Pulau Rawa lies 16 km off the coast. With its white sand, coves and crystal clear waters it is suitable for recreational water activities such as snorkeling, diving and fishing.
Pulau Besar:
Pulau Besar, located just south of Pulau Rawa is a favorite diving destination.
Pulau Tengah:
Pulau Tengah is an uninhabited island between Pulau Rawa and Pulau Besar. In 1985 was designated as a Marine Park because of its teeming marine life including rare species of fish and coral. It is one of the destinations where giant leatherback turtles emerge from the sea in July to lay their eggs here.
Shopping
There are plenty of shopping options in Johor Bahru. Modern malls, arcades, handicraft centers, bazaars and markets offering international and local products all vie for attention. Local craftwork is sure to catch the eye and they do make lovely souvenirs of a trip here. Furthermore, there is the JB Duty Free Complex located at the JB International Ferry Terminal. Known as "ZON", it is a large duty free department store and supermarket encompassing 163 retail outlets, a hypermarket, and 30,000 feet of shopping area. The complex offers a variety of goods such as branded designer wear from London, Paris, New York and the likes.
How to Reach Johor
By Air:
Regular flights from Johor Bahru's Senai Airport connect the state capital with Kuala Terengganu, Kuantan, Kuching, and Kuala Lumpur.
By Rail:
Keretapi Tanah Melayu (KTM) offers numerous train services connecting Singapore and other states through the Johor Bahru Railway Station.
By Sea:
A ferry link provides a new way to travel between Singapore and Malaysia. It operates daily between Changi Point near the Singapore International Airport and Tanjung Belungkor in Johor.
By Road:
Taxis are a popular and cheap mode of transportation. All urban taxis are fitted with meters. It is also possible to hire an outstation taxi on a shared or individual basis to travel to Kuala Lumpur, Malacca, Kuantan, and Kota Bahru. Johor Bahru is also well served by express buses offering comfortable rides at reasonable fares from all major cities and towns in Peninsular Malaysia.