Langkawi's hottest USP is its scintillating beaches; the beaches which are not only marked by warm sun, white sands and sparkling waters but also by serenity and tranquility. Certainly, the beaches of Pulau Langkawi are known worldwide for their pristine beauty and exotic vegetation. Some of them are also rated amongst the best and the most secluded beaches in the world. Truly, these beaches serve as a perfect hideaway to spend those picture-perfect holidays.
For beach-loving people, Langkawi is a treat as they can find many picturesque beaches over here. Where Pantai Cenang captures the limelight being the longest and liveliest beach on the island, beaches like Datai Bay and Tanjung Rhu are loved by people for their tranquility. So, whether you want to get into some adventurous water sports or have a liking for book reading, you will find numerous beaches to suit your taste. Check out a few of Langkawi Beaches.
Burau Bay
Burau Bay Beach, called Pantai Teluk Burau in Malay, is one of the tranquil bay areas in Langkawi. It's actually a narrow beach where the rocky Gunung Cincang descends abruptly to meet the sea. Sited on the west coast of the island, this beach formerly used to be the resort of the Piped Hornbill. More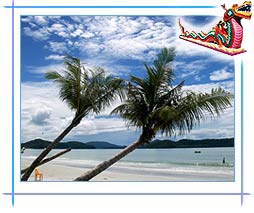 Datai Bay
The Pantai Teluk Datai, literally Datai Bay Beach, is amongst the premier beaches of Langkawi Island. It is generally typified by boulders at its both ends and dense forest in the background. To be found on the north coast of Langkawi, Datai Bay is the area where some of the most luxurious resorts are sited. More
Cenang Beach
Cenang Beach, known as Pantai Cenang in Malay, is the most happening beach of Langkawi. Located on the south-western tip of the island, the beach is about 18.4 km from Kuah. It features fine sands, crystal clear waters, elegant casuarinas and lofty coconut trees. More
Kok Beach
Pantai Kok is a tranquil beach on the beautiful island of Langkawi. This soothing beach is to be found about 24.8 km away from Kuah, on the western tip of Langkawi Island. Being located in a secluded area, it is the best site for honeymooners and solitude seekers. More
Tengah Beach
Pantai Tengah, which literally means Middle Beach, is the next best beach after Pantai Cenang. This vibrant beach is sited about 550 mtrs south of Cenang in Langkawi. It is quieter than the latter one and that's why, it makes the right place to lighten up. More
Black Sand Beach
Pantai Pasir Hitam, which literally means Black Sand Beach, is a spectacular beach on the island of Langkawi. This short stretch of beach lies 2kms west of Tanjung Rhu Beach. The shoreline boasts of sand, which isn't completely black but it's actually like a mixture of black sand and normal sand. More
Tanjung Rhu Beach
Tanjung Rhu Beach is a pleasing beach on the northernmost tip of Langkawi Island. This lengthy beach is tasseled by casuarina trees which actually bestowed name to the beach (since 'Tanjung' means cape and 'Rhu' means casuarina). More
Shark Bay Beach
Pantai Teluk Yu literally means Shark Bay Beach in Malay. This beach is actually contiguous to Pantai Pasir Hitam but doesn't have the black mineral deposits. Unlike what the name suggests, the beach has shark-free and absolutely tranquil waters.
Batu Hampar Beach
Pantai Batu Hampar is marked by rocky outcrop and boulders on its both ends. This composed beach presents a picturesque sight amidst its natural beauty, coconut and mangrove trees. This stretch of beach is almost hidden as it is enclosed by rocky outcrops.
New Bay Beach
New Bay Beach is called Pantai Teluk Baru in Malay. The small bay of this beach crafts a natural refuge for fishing boats. Here, if you wish, you can ask a fisherman to let you accompany him on a fishing trip. On the whole, this stretch of beach is pleasurable.
Sandy Skull Beach
Pantai Pasir Tengkorak, which literally means Sandy Skull Beach, is another tranquil beach on Pulau Langkawi. As per the folklores, the beach has been the witness to the bloody battle between the local and the invaders (Thais). Its waters are crystal clear and calm.
Banyan Beach
Pantai Beringin, literally Banyan Beach, is located near Kuah Town in Langkawi. It features mangrove stumps at its ends. This serene beach is tasseled by swaying coconut palms.