Location:
In the western part of Langkawi, 24.8 km away from Kuah
Highlights:
Replica of Thai Palace
How To Reach:
One can easily reach here by hiring taxis, or by boarding buses from the island.
Pantai Kok is a tranquil beach on the beautiful island of Langkawi. This soothing beach is to be found about 24.8 km away from Kuah, on the western tip of Langkawi Island. Being located in a secluded area, it is the best site for honeymooners and solitude seekers. It is characterized by silky sands and shimmering waters. In its virgin locale, your eyes will generously feast on profuse greenery and sailing yachts.
Apart from its picturesque setting, one more thing that is associated with this beach is Summer Palace, a replica of Thai Palace. The marvelous location of the beach has attracted people, including movie producers, to spend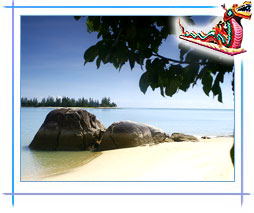 some quality time here. And that's how, the Summer Palace came into being at Pantai Kok. This Palace was created for the shooting of the famous English movie, Anna and the King. The set is still there as the memento of the film.
People with adventurous bent of mind can go for jungle trekking and have a close glimpse of some local animals. For sure, Kok Beach is quieter than the Cenang Beach and that's why, it makes the ideal place for you to fall in and renew your bonds with your loved ones. Besides, it's a place to admire the spectacular view of yachts and sailboats while you laze amid white sands and swaying palms. To put in succinct terms, Pantai Kok is a certainly a beautiful place that is worth visiting on your trip to Langkawi.