Location:
Kubang Badak, Langkawi
Highlights:
Over 3,000 crocodiles including Alligators
How To Reach:
One can easily reach here by hiring taxis, or by boarding buses from the island.
The Taman Buaya, precisely the Crocodile Farm, is an interesting place to see on the island of Langkawi. Sited at Kubang Badak about 32km north of Kuah Town, this 20-acre farm is estimated to have over 3,000 crocodiles including many rare ones and some alligators. It is registered with the Convention on International Trade and Endangered Species (CITES). In the farm, these unloved creatures are kept in different ponds such as Periodical Pond, Breeding Pond, Bridge Pond, Feeding Pond, Jumping Pond and Show Pond.
A visit to this farm will be a memorable experience in itself. Here, one can observe crocodiles and alligators in concert with the environment that closely resembles their natural habitat. You can also browse the exhibition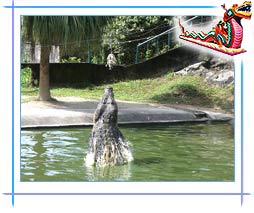 centre where one can view the life-cycle of a crocodile as well as photographs of every-possible aspect of the species. If you happen to be a lucky one, you can also watch the wrestling between a man and a crocodile. The Species Pond is the place where you can see numerous species of crocs and alligators.
Besides, there is a Feeding Pond where you can witness the feeding frenzy of these giant reptiles. As the name suggests, the Breeding Pond is the site where the crocs mate and nest. If you wish to have a closer look, approach the Bridge-Over-Pond but be careful and don't lean over the railing. Furthermore, check out the 28-year-old Bujang Kawi, which is the oldest inmate born without teeth. Its length is about 4 mtr and it weighs around 454 kg. Amidst a range of amenities, the Farm also has a restaurant and a souvenir shop to offer a complete outing.