Location:
Jalan Dato Syed Omar, Kuah Langkawi
Highlights:
Luxury yachts, world-class restaurants, adventurous activities
Significance:
It is the home to Royal Langkawi International Regatta.
How To Reach:
One can easily reach here by hiring taxis, or by boarding buses from the island.
The Royal Langkawi Yacht Club (RLYC) is an elite establishment that consists of a striking clubhouse and a well-equipped marina. It is to be found in the south-east region of Langkawi, and is within a walking distance from the Kuah Jetty Point. Further, Royal Langkawi Yacht Club is honored to be the address of the top-notch Royal Langkawi International Regatta, which is one of the premier sailing events of Asia.
The clubhouse boasts of a stylish structure emanating rustic charm while utilizing the natural setting. Its slanting roof is formed like a ship's hull. From the portico, people can take pleasure in the extravagant vistas of luxury boats, the busy ferry terminal and close by isolated islands. The marina has been recently expanded to lodge 205 wet-berths and a range of vessels including sailing keels, deep hull boats and mega yachts up to 60mtr long.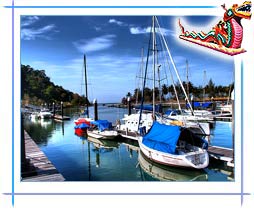 Besides, the Langkawi Yacht Club offers an impressive array of facilities such as water's edge swimming pool, jacuzzi, sauna, restaurants, convenience store, internet cafe, deep-sea fishing, sailing, scuba diving, jet skiing, speedboats, and yacht chartering service. It is like a small village that provides all types of supplies, recreation and sporting facilities, including marine-related equipments, souvenirs, and duty-free beverages.
The Yacht Club also provides the enthusiasts an easy access to duty-free shops and business facilities. For people who want to tempt their taste buds, Langkawi Yacht Club is truly a perfect place to enjoy a cool drink and a scrumptious meal in relaxing surroundings. You can savor the local and international delicacies at the beachfront restaurant called 'Charlie's Place' or at the fine-ding restaurant known as 'Captain's Deck'.
The RYLC also has two boats, called Trophy and Gallart, which are available for charter. These vessels include the services of professional skipper, engineer and service staff. So, if you want to go for island hopping or sports fishing, these luxurious boasts are ideal to indulge in your adventure wisdom. Putri Maimunah is another luxury yacht that can be hired to explore the islands of Langkawi. To put in succinct terms, Royal Langkawi Yacht Club is a must-visit place.