Location:
Kilim, Mukim Air Hangat, Langkawi
Highlights:
Over 2,500 exhibits are displayed.
How To Reach:
One can easily reach here by hiring taxis, or by boarding buses from the island.
The Galeria Perdana is a brilliant gallery located at Kilim, about 11km from Kuah Town, in Langkawi. This gallery extends in 3 double-storey interconnected buildings. It showcases a remarkable collection of more than 2500 souvenirs, awards and gifts, which were received by the former Prime Minister of Malaysia, Tun Dr. Mahathir Mohamad, and his wife, Dr Siti Hasmah Mohd Ali, from the world leaders during his tenure.
Dr. Mahathir proposed to keep these souvenirs on display because he believed that whatever he has got during the term was on the behalf of all the Malaysians. And the people of the country must have an access to them. These exhibits reflect the gestures of friendship from throughout the world. Through this exhibition, people will get an opportunity to appreciate the distinctiveness and assortment of various arts and cultures.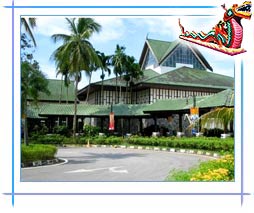 The buildings with oriental architectural designs boast of harmonious ambience. Here, you'll find various sections dedicated to different exhibits. Like, while browsing one section, you will find gifts made of wood, leather, crystal and lacquer, together with musical instruments and stone objects. Another section will disclose exhibits like textiles, games, weaponry, ceramics, plaques and Islamic art.
One another section displays gifts made of silver, copper, brass and pewter. Also check out the range of automobiles including several prototype cars and four-wheel drive vehicles. Another prominent feature that one mustn't miss is the ceiling, which is festooned with handmade paintings. In short & snappy terms, Galeria Perdana is a nice place to see and admire the rare assortment of gifts and awards, in Langkawi.