Kuala Lumpur is truly a shopper's paradise. Be it huge shopping malls, departmental stores, duty-free shops, hypermarkets, shopping arcades, specialty stores, handicraft centers, local markets, the city abounds in all. And undoubtedly, each place has a charm of its own. In fact, you need not have to think twice for shopping in KL since it has so many things to swank. From the past few years, scores of gigantic malls have cropped up in the metropolis that entail innumerable branded outlets and kiosks.
Here you'll find each and everything you can think of, from haute couture to cheap fashionable clothing, electronic goods to jewelry, home furnishings to furniture, and local crafts to elegant handicrafts. Areas like Jalan Tuanku Abdul Rahman, Jalan Petaling, and Jalan Bukit Bintang are prominent for their fascinating shopping outlets in KL. To buy the best of Malaysian handicrafts, you can head for the Central Market on Jalan Benteng where lots of local artists sell their wares.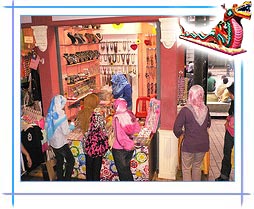 Chinatown, along Petaling Street, is the best place to wander and haggle for knockoff designer clothing and accessories, sunglasses, T-shirts, souvenirs, and fake watches. For foreign visitors, the night markets or 'pasar malam' where trading activities begin in the evenings make a novel experience. These open-air markets are characterized by hawker stalls, which sell a range of local products, foodstuff, clothing, etc. While purchasing things from here, keep the mantra of bargaining in your mind.
Haggling is though not usual in shopping malls and department stores. In view of the fact that Kuala Lumpur is a great destination for shoppers, a Shopping Carnival is organized in October/November in the city. This fiesta offers a good time to collect great bargains on different items. So, without any delay, catch the next flight to Kuala Lumpur and land in the shoppers' haven to strike some really good deals. But before that, scroll down to explore the major shopping areas in Kuala Lumpur.
Shopping Areas
Jalan Bukit Bintang
Bukit Bintang is certainly one amongst the city's leading shopping districts that offers a lot of merchandise, suiting every taste and budget. Some of the major shopping outlets are found in this area, such as, Sungei Wang Plaza, Bukit Bintang Plaza, Imbi Plaza, Lot 10, Starhill Plaza, and Kuala Lumpur Plaza.
Jalan Conlay
Jalan Conlay is sited near KL Tower and is famous for its chic boutiques, optical shops, textile retail outlets and perfumeries. Here, Komplex Budaya Kraf is a renowned handicraft complex that entails a great variety of local handicrafts, including batik outfit, home decor items, paintings, etc.
Jalan Tuanku Abdul Rahman
On both the sides, this road stretch is bordered by pre-war buildings whose facades have been conserved and re-adapted for modern businesses, particularly retailing. Some of the major shopping centers located within this area are Sogo, Pertama Complex, Globe Silk Store, Kamdar and Tang Ling.
Jalan Ampang / Jan Tun Razak
Located within the diplomatic enclave of Kuala Lumpur, Jalan Ampang and Jalan Tun Razak thrive in prominent shopping complexes that brag international brands and local products as well. Suria KLCC, Ampang Park Shopping Complex, City Square, and Ampang Plaza are its famous shopping places.