Location:
Level 5, Berjaya Times Square, Kuala Lumpur
Highlights:
Supersonic Odyssey, DNA Mixer
Significance:
It is the largest indoor park in Malaysia.
How To Reach:
One can easily reach here by hiring taxis, or by boarding buses, trains from the city.
Cosmo's World Theme Park is celebrated for being the largest indoor park in Malaysia, perhaps in Asia. Sited on Level 5 of Berjaya Times Square in Kuala Lumpur, the amusement park is envisioned as the 'largest indoor, all weather, all ages, entertainment destination in the region'. It is spread over an area of 380,000 square feet and has separate theme parks for adults and children, namely Galaxy Station and Fantasy Garden.
It's for sure that each section has a rich assortment of entertainment and rides. In all there are 14 rides, and out of them 4 are thrill rides which have been exclusively designed and manufactured for Cosmo's World. The Galaxy Station, which offers rides for adults and children over 13, has some exciting attractions, like Supersonic Odyssey roller coaster, Spinning Orbit, DNA Mixer, Ooort's Express, Dizzy Izzy, and Space Attack.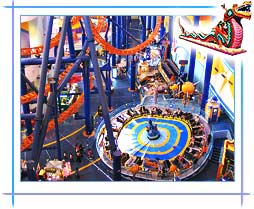 So, let your body spin in the awe-inspiring 30-metre high Spinning Orbit. The 800-metre long Supersonic Odyssey roller coaster will surely rush the adrenaline through your body. And now it's time to swing incredibly in Space Attack. You will forget everything as and when you enter the implausible DNA Mixer. The Fantasy Garden, which is meant for children, also boasts of a variety of family and toddler's rides.
It offers 8 unhurried rides basically for kids and families, in its colorful Garden Avenue. The major fun rides available in this section are Crazy Bus, Buddy Go Round, Flying Bumble Bee, Botanic Drive, Molly-Cool's Swing, Fantasy Trail, Robo Crash, and Honey Bump. There are amenities, like the 'Kidz Theatre' and party rooms for birthdays etc, in this section. In short, Cosmo's World Theme Park is a great place to chill out, amidst plethora of amenities and fun-filled rides.