Location:
Bukit Kiara
Established in:
1996
Highlights:
11 different galleries housing more than 1,000 exhibits
How To Reach:
One can easily reach PSN by hiring taxis, or by boarding trains, buses from the city.
The National Science Centre, literally Pusat Sains Negara (PSN) in Malay, is a noteworthy science centre of Malaysia. It is set atop a hill on 8 hectares of landscaped grounds at Bukit Kiara, an affluent suburban area on the northwest of Kuala Lumpur. On 29 November 1996, this science centre was formally inaugurated by the earlier Prime Minister-Tun Dr Mahathir bin Mohamad. This non-formal educational institution is managed by the Ministry of Science, Technology and Innovation.
The purpose behind the establishment of this centre is to nurture interest in the constant learning of science and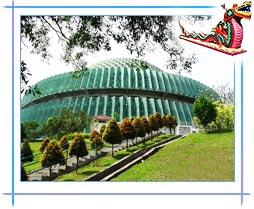 technology among Malaysians. Located in the lush green belt having pleasant environment, the Pusat Sains Negara is a novel national landmark that boasts of distinctive architecture. Its marvelous building, which is four-storey aerodrome, bears a resemblance to a shortened cone topped by a geodesic dome.
The PSN comprise of 11 galleries that are based on different themes, though these can be segregated into two groups-Basic Science and Technology. It addresses no less than 1,000 different exhibits that intend to inspire, excite and encourage visitors to take an active interest in science and technology. Some of the themes featured in the galleries are environmental odyssey, pathways to discovery, future world, and thinking machines. To sum up, a trip to the National Science Centre would be an enlightening experience.