Perak is the second largest state of Peninsular Malaysia and is named after the river flowing through the state. Also known as the Land of grace, Perak is a treasure trove for the tourists. It has architectural splendor, lovely beaches, tropical jungles and beautiful hill stations.
History
Archaeological records indicate that Perak was inhabited since prehistoric times. The modern history of Perak began in 1511 with the capture of Malacca by Portuguese. The eldest son of the last Sultan of Malacca, Sultan Muzaffar Shah, fleeing the Portuguese conquest, established his own dynasty on the banks of the Sengai Perak (Perak River) in 1528.
The discovery of tin deposits of unprecedented richness in Perak at the middle of the nineteenth century brought rapid prosperity as well as considerable political turmoil. The Dutch, Bugis, Acehnese, and the Siamese all tried to invade Perak but the British intervention saved Perak. Britishers introduced Resident System in Perak.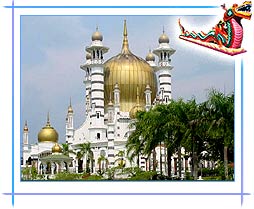 In 1896, Perak joined Selangor, Negri Sembilan and Pahang to form the Federated Malay States. However, the British Resident system lasted until Perak became part of the Federation of Malaya in 1948.
Climate
Perak enjoys warm sunny days nearly all year around. The temperature ranges from 24°C to 32°C. Humidity is usually high. Annual rainfall is around 3000 mm.
Best Time to Visit
Perak can be visited all year round.
Tourist Attractions / Places to See
Kuala Kangsar:
Kuala Kangsar, located 48km north of Ipoh on the Perak River, is the royal town of Perak. It is dominated by three beautiful buildings: Istana Iskandariah, Istana Kenangan and the Ubudiah mosque. The Istana Iskandariah, situated on a hill overlooking the river, is the palace of the Sultan of Perak. Istana Kenangan, which was built as a temporary residence during the Iskandariah's construction is famous for its beautiful architecture. The Ubudiah mosque is a magnificent structure topped with a constellation of bright golden domes.
Taiping:
Taiping succeeded Kuala Kangsar as the capital of Perak in the late nineteenth century. At that time Taiping was the thriving center of the tin industry in the surrounding valley. In the 1890s, disused mining pools at the edge of town were cleverly landscaped to form the beautiful Lake Gardens. The Gardens are still tranquil and restorative, though this once bustling town has become quiet. The country's oldest State Museum is within the vicinity, containing artifacts such as ancient weapons, handicrafts and aboriginal implements.
Bukit Larut:
Bukit Larut, located just 10 km from Taiping, is Malaysia's oldest hill station. Formerly, it was known as Maxwell Hill. Though not as developed as Cameron and Genting Highlands Bukit Larut preserves the atmosphere of a colonial hill station, with modest, welcoming bungalows, carefully cultivated gardens, and a pervasive atmosphere of cool quietude.
Lumut:
Lumut is a naval base near Ipoh. Lumut is also the departure point for Perak's internationally known islands, Pulau Pangkor and Pulau Pangkor Laut.
Kuala Gulag Bird Sanctuary:
This coastal bird sanctuary attracts a wide variety of exotic birds, particularly during the migratory season between August and December.
Teluk Intern Leaning Tower:
Teluk Intern lays 84km from lpoh. It has a spectacular Leaning Tower that is reminiscent of the Leaning Tower of Pisa. This pagoda-like structure was built in 1885 by a Chinese contractor, Leong Choon Choong. The dominating 25.5m tower was once used for water storage.
Ipoh Cave Temples:
The countryside around Ipoh is studded with dramatic limestone outcroppings, many of which are dotted with cave temples. While many of the temples are of recent origin, cave paintings dating back 2000 years have been located at one site. Perak Tong and Sam Poh Tong are two most famous temples. Both were built by Chinese monks who arrived in Perak with the wave of Chinese immigrants around the turn of the century.
Banding Resort:
Midway along the East-West Highway is Temenggur Lake, formed by the construction of the magnificent Temenggur dam. Set atop an island in the lake is the Banding Resort-a small facility offering basic accommodations and outstanding fishing facilities.
Kellie's Castle:
Kellie's Castle is a half-built castle built by William Kellie Smith, a Scott. The castle stands enigmatically among Kellie's old lands and is visible across the river a few miles along the road from Ipoh to Batu Gajah.
Gua Tempurung:
Gua Tempurung is probably the largest natural limestone cave in Malaysia. Situated about 24 kilometers from lpoh, the cave stretches for 1.5 kilometers and is made up of five huge domes whose ceilings resemble coconut shells. Each dome has different formations of stalagmites and stalactites as well as differing temperatures, water levels, content of limestone and marble. The cave is believed to have existed since 8000 B.C.
Lata Iskandar Waterfalls:
The Lata Iskandar Waterfalls, on the way up to Cameron Highlands from Tapah, is an ideal picnic area and favourite stopover. Its surrounding jungle is home to one of the largest variety of exotic insect and plant life in the world.
Sungkai Deer Farm:
Situated in Manderang, Sungkai, about 82km from lpoh; this deer farm is only one of its kind in the country. Established in 1978, there are approximately 100 deer roaming freely on this 100-hectare breeding and conservation project site.
Pangkor Island:
Pangkor Island is the most popular island resort in Perak. Pangkor entices visitors with its golden beaches, clear blue water, and cool refreshing breeze. … (More)
Cameron Highlands:
Cameron Highland is the largest and most famous hill resort of India. … (More)
Shopping
There are many modern shopping centers and supermarkets in Perak, especially in lpoh and the major towns. Other places where you can pick up good bargains are at the pasar malam or night markets.
Traditional handicraft is a prominent cottage industry in Perak and is predominantly found in Kuala Kangsar. There are many handicraft centers which sell local crafts such as tabu sayong (earthenware), tekat benang emas (gold embroidery), bamboo carvings and seashell designs.
How to Reach Perak
By Air:
Malaysia's national carrier Malaysian Airlines (MAS) provides services to all major towns in Malaysia with Kuala Lumpur as the centre. The domestic links would then link you to Ipoh.
By Bus:
There is regular bus service from Kuala Lumpur to Perak.
By Rail:
Malaysian Railway Network provides link up to Perak.