Sabah is a tropical paradise located at the northeast corner of Borneo. In ancient times it was known as the "Land Below the Wind" because it lies below the typhoon belt. Sabah attracts visitors with its scenic beauty, rugged landscape and cultural diversity.
Sabah offers many attractions to tourists-Rainforests, mountains, unspoilt marine life, water sports, and unique flora and fauna. Sabah is also home to the world's biggest flower, Rafflesia.
History
Sabah was earlier under various chieftains. Evidences indicate that Sabah had trading relations with Chinese, Portuguese, and Spanish. During the 15th century, Sabah was a vassal of the Sultan of Brunei. In 1704, the Sultan of Brunei ceded the land east of Murudu Bay to the Sultan of Sulu. In the early 1880's, Moses, an American trader, obtained a lease over Sabah from Brunei. The lease eventually passed to Alfred Dent, an Englishman. In 1881, he signed a treaty with Brunei and Sulu, converting the lease into a cession.
Thus the British North Borneo (earlier name Sabah) was born. It was administered by the Chartered Company of British North Borneo until the Japanese occupation. When the Japanese surrender, Sabah was put under the British Military Administration. In 1946, the Company surrendered its rights to the British Government and Sabah became a British Crown Colony. In 1963, it gained independence and joined Malaysia. In 1963, it gained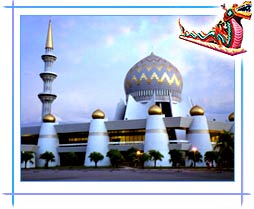 independence and joined Malaysia.
Climate
Sabah has an equatorial climate. Temperature varies from 21°C to 32°C in the lowlands, while in the hilly regions temperature varies from 13°C to 23°C. Average annual rainfall is 2000 mm.
Best Time to Visit
The best time to visit Sabah is between May and September when the weather is comparatively dry. It is also the best time to see the turtles, which make nightly landings at various locations to lay their eggs. November to January is the rainy season and it is better to avoid going to Sabah at this time of year.
Tourist Attraction/Places to See
Sabah State Mosque, Kota Kinabalu: This resplendent structure has majestic domes and gold inlay motifs. It presents a spectacular sight.
Sabah Foundation Building, Kota Kinabalu: The building is an architectural and engineering marvel. This 30-storey circular glass building is supported by high tensile steel rods emanating from a central building. It is one of only four such buildings in the world.
Kota Belud:
Kota Belud is a small town located 77 km from Kota Kinabalu. Every Sunday the place comes alive when the "Tamu," or open market, takes place.
Tuaran:
Tuaran is the region's agricultural station. Some of the places located nearby and worth visiting are Mengkabong-a Bajau village built over water, and Tamparuli-a town specializing in the production of local handicrafts.
Penampang:
Penampang is home to the Kadazan people and offers an insight into Sabah's varied ethnic groups. The village is located 13 km south of Kota Kinabalu.