Kuala Lumpur has got a beautiful landscape, thanks to the lush greenery that keeps the city fresh and bright. This capital city of Malaysia boasts of numerous parks, which are well-planned and managed by their respective authorities. Amidst hoards of skyscrapers, the city has maintained a close touch with nature in tandem with parks and gardens. In fact, some of the parks are based on themes, like KL Bird Park, Deer Park, Orchid Garden, etc. Another famous park is KLCC Park which is located near Petronas Towers in the Kuala Lumpur City Centre. These gardens tender a great place for families and children to chill out. Click on the given links to know more about the gardens & parks of Kuala Lumpur.
Lake Gardens Park
Lake Gardens Park, called Taman Tasik Perdana in Malay, is the oldest park in the garden city of Malaysia, Kuala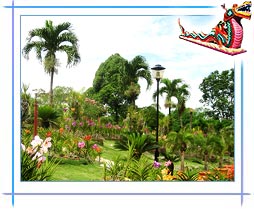 Lumpur. Indeed it is the favorite haunt of every city dweller. This botanical garden is situated around two lakes in the heart of KL, sprawled in 91.6 hectares of close-cropped lawns, undulating hills and well laid-out gardens.
Kuala Lumpur Bird Park
Taman Burung Kuala Lumpur, literally Kuala Lumpur Bird Park, is a unique habitat of birds in the capital of Malaysia. KL Bird Park is famous globally as 'The World's Largest Covered Bird Park'. In 1991, the Kuala Lumpur Bird Park was formally opened by Her Majesty Queen of Malaysia-Tunku Bainun.
Kuala Lumpur Butterfly Park
Kuala Lumpur offers many striking places that are drenched in nature's bounty, to visitors. One such place is Kuala Lumpur Butterfly Park that is located very close to the renowned Bird Park in the precincts of Lake Gardens. This unique park addresses over 6,000 butterflies from 120 exotic species.
Kuala Lumpur Deer Park
Kuala Lumpur Deer Park is a square that is dedicated to these beautiful, gentle and intelligent creatures of God. Situated in surging slopes and expansive vale of Lake Gardens, the Deer Park sprawls in about 2 hectares of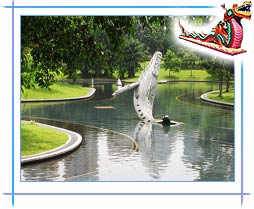 green land. This carefully selected unruffled area has been developed into a suitable habitat
Kuala Lumpur Orchid Garden
The Taman Orkid, literally Orchid Garden, is a must-see place for all orchid lovers. Located next to Butterfly Park in the Lake Garden of Kuala Lumpur, this beautiful garden was inaugurated by Late Dr. Siti Hasmah Binti Mohamad Ali (W/O Late Malaysian Prime Minister Mahadhir Mohammad) on 15 April 1986.
Bukit Nanas Forest Reserve
Bukit Nanas Forest Reserve is known to be one of the oldest permanent forest reserves in Malaysia. Earlier known as Bucket Weld Forest Reserve, Bukit Nanas was declared as a forest reserve in 1906. In 1934, it got the recognition of being a Wildlife Reserve and Bird Sanctuary.