Location:
Lake Gardens, Kuala Lumpur
Established In:
1986
Highlights:
Stunning variety of Orchids
How To Reach:
One can reach Orchid Garden by hiring taxis or by boarding buses, trains from the city.
The Taman Orkid, literally Orchid Garden, is a must-see place for all orchid lovers. Located next to Butterfly Park in the Lake Garden of Kuala Lumpur, this beautiful garden was inaugurated by Late Dr. Siti Hasmah Binti Mohamad Ali (W/O Late Malaysian Prime Minister Mahadhir Mohammad) on 15 April 1986. Undoubtedly, this spectacular garden appears as a riot of colors amidst a marvelous range of orchids.
Sprawled in 1 hectare of land, Orchid Garden addresses over 3,000 orchid species from all over the world though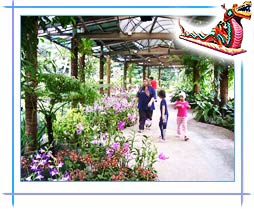 800 species are from Malaysia itself. Here you can witness the most exotic species of orchid in full bloom. With such picturesque scenery in sight, people cannot resist themselves for clicking pictures. At weekends, KL Orchid Garden develops into a jovial market where orchids are available for sale.
In fact, it is a peaceful place where one can spend some time relaxing, away from the bustling city life. This serene garden is embellished with water fountain, waterfall, lotus pond and astakas to make it all the more enchanting. The popular Hibiscus Garden, which is home to the National Flower of Malaysia, is also sited alongside the Orchid Garden. Even this park comprise of more than 2,000 species of hibiscus.