Location:
Off Jalan Bukit Kiara, Kuala Lumpur
Highlights:
36-hole Golf Course
How To Reach:
One can reach KLGCC by hiring taxis or by boarding buses, trains from the city.
Kuala Lumpur Golf & Country Club (KLGCC) is a premier golf course, snuggled amidst the lush greenery and surging hills of Bukit Kiara, Kuala Lumpur. It's undoubtedly a haven for the mind, body and soul, in conjunction with peaceful locale. Its clubhouse, which boasts of graceful Californian-Spanish architecture, appears even more pleasing because of the picturesque landscape. Indeed the KLGCC is a perfect gateway for the city dwellers, away from the chaos.
Also the country club is well-connected by major roads, which further makes it easily accessible from the downtown. Whether it's about business or entertainment, it makes a pleasant backdrop for every occasion. The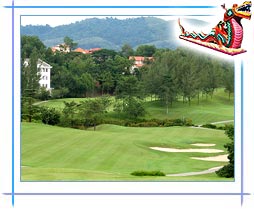 amenities at the club have been carefully planned to guarantee a smooth flow of activities in the functional areas. Since the Clubhouse has undergone a major refurbishment recently, it is now outfitted with the latest of facilities.
Designed by Robin Nelson & Rodney Wright, the KLGCC's 36-hole course is sprawled in a considerable area, divided into East course and West Course. And both the courses are distinctive and exciting in their own ways, be 6164 metres par 72 West Nine or 5826 metres par 71 East Nine. While the East Course encompasses sand bunker and allows golfers to move at a slower pace, the West Course boasts of lakes and trees with straight and tight holes entailing long shots.