Kelantan-literally meaning "Land of Lightning"-is an agrarian state with lush paddy fields, rustic fishing villages and casuarina-lined beaches. Located in the northeast corner of the peninsula, the charms of Kelantan are found in the vitality of its culture and its remote, unsullied beauty. Kelantan offers plenty of opportunities for tourists such as river cruises, river rafting, bird watching and jungle trekking.
History
Though not much is known about Kelantan's early history, Chinese historical documents date back the history of Kelantan between 8000 and 3000 BC. These documents chronicle the existence of a government, which maintained links with China. Kelantan was subsequently referred to as "Ho-lo-tan", "Chih-Tu" and "Tan-Tan" in these records.
The territories of Kelantan and Patani came under Siam in the 14th century. Around 1411, Raja Kumar, the ruler of Kelantan, became independent of Siam and Kelantan became an important centre of trade by the end of the 15th century.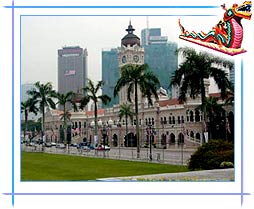 In 1499, Kelantan was conquered by forces of the Malacca Empire and became its vassal state. With the fall of Malacca in 1511, Kelantan was divided up and ruled by petty chieftains. With the conquest by the Siamese in 1603, most of the Kelantan chiefs became subject to Patani. Around 1760, a petty chieftain of Kubang Labu in Kelantan succeeded in unifying the territory of the present Kelantan. Soon after in 1764, Long Yunos seized the throne and proclaimed himself Raja of Kelantan. With his death, Kelantan came under the influence of Terengganu.
In 1800, Raja Muhammad declared himself as the first Sultan of Kelantan. In 1812, he broke from Terengganu's influence and became a separate tributary state of Siam. In 1831, Siam divided up the old Malay Kingdom of Patani into 7 provinces each under a Siamese Governor. Siam played an important role in Kelantan throughout the 19th century.
In the 1909 Anglo-Siamese treaty, Siam surrendered its claims over Kelantan, Terengganu, Kedah and Perlis in exchange with the British government for territorial claims in Siam. Kelantan thus came under the control of the Straits Settlements as one of the Unfederated Malay States.
Kelantan was occupied by the Japanese on 8th December, 1941. After the defeat of Japan in August 1945, Kelantan and the rest of Malaya came under the British Military Administration in September 1945. Kelantan became part of the Federation of Malaya on 1st February, 1948 and together with other states attained independence on 31st August, 1957. On 16th September 1963, Kelantan became one of the component states of Malaysia.
Climate
Kelantan enjoys a pleasant tropical climate. It is almost summer all year round with refreshing intermittent rain. Longer and heavier rainfall is observed in November, December and January. Daily temperature ranges from 21°C to 32°C.
Best Time to Visit
The best time to visit Kelantan is between February and May as rainfall is relatively less at this time of the year. The July festival that is held here also attracts lots of tourists.
Tourist Attractions/Places to See
Kota Bahru:
Kota Bahru, the capital of Kelantan is a bustling town famous for its ornately decorated trishaws. It is the best place to appreciate Kelantanese culture and crafts and offers numerous attractions for visitors.
Cultural Centre:
Located on Jalan Mahmud close to the Perdana Hotel, the cultural centre is a veritable showcase of the living heritage of Kelantan.
Istana Batu (Royal Museum):
Istana Batu was designed and built in 1939 during the reign of Sultan Ismail I. It was used as a venue for royal weddings as well as to house royal guests. Today, it has been converted into the Royal Museum where regalia and palace items belonging to former Sultans are on display. These include silverware, bedroom items and furniture from the royal household.
War Museum:
The War Museum occupies the oldest brick building in Kelantan, dating back to 1912. This historic building now houses Japanese memorabilia and documents relating to World War II.
Islamic Museum/Syura Hall:
The history of Islam in Kelantan is well documented in the artifacts and inscriptions exhibited here.
Istana Balai Besar:
Built by Sultan Muhammad II in 1840, the Istana Balai Besar was formerly the residence of past Sultans. However, it is now used solely as a venue for official state functions.
Handicraft Village and Craft Museum:
Kelantan's exquisite range of handicrafts is on display here. Silverware, "songket", batik and woodcarvings are exhibited and are for sale as well.
Gunung Stong:
Kelantan's highest mountain, it is home to Fish Cave or Gua Ikan, a lone rock that looks like a fish.
Merdeka Square:
Once known as Padang Kelupang, it is one of the many central open and civic spaces in Malaysia built by the British.
Masjid Kampung Laut:
One of the oldest mosques in Malaysia, its uniqueness lies in the fact that it was built entirely without the use of nails.
Pantai Cahaya Bulan:
This lovely stretch of shimmering is Kelantan's most famous beach. Fringed by swaying casuarinas and coconut palms, the beach is a big hit with the tourists.
Pantai Irama (Beach of Melody):
Situated in the district of Bachok about 25 km south of Kota Bharu, Pantai Irama is believed to be the most beautiful beaches along the entire east coast.
Pantai Seri Tujuh (Beach of Seven Lagoons):
Venue of the International Kite Festival, this beach lies on the border of Thailand and Kelantan at Kampung Tujuh in Tumpat, about 7 km from Kota Bharu.
Shopping
Kelantan offers a great variety of local handicrafts. This is supplemented by merchandise from Thailand, which is available at the Malaysian border towns of Rantau Panjang and Pengkalan Kubur. In the shops, richly coloured silks are displayed alongside batik scarves, prints and songket textiles.
Some of the famous shopping places in Kelantan are Bazaar Buluh Kubu and Jalan Temenggong. Bazaar Buluh Kubu is a three-storey shopping complex and contains great variety of locally made souvenirs, knick-knacks, batik, gold and silver songket, fine silverware and imported Thai goods.
Jalan Temenggong is a street lined with craft shops selling gold and silver jewellery, textiles, brassware and woodcarvings.
How to Reach Kelantan
By Road:
There is an excellent network of roads linking major towns in Peninsula Malaysia to Kelantan. There are regular air-conditioned busses operating from
Kuala Lumpur and major towns to Kota Bharu.
By Rail:
Train services from Kuala Lumpur to Kelantan terminate at Wakaf Bharu and Tumpat. From these two points, one can get to Kota Bharu either by taxi or bus. Stop over points en-route include Gua Musang, Kulal Krai, Tanah Merah and Pasir Mas.
By Air:
Malaysian Airlines operates daily flights to Kota Bharu from Kuala Lumpur and Penang.