Perlis is the smallest state in Malaysia. The state is famous for its serene unspoilt beauty, rustic rural scenes and verdant paddy fields. The expanse of verdant paddy fields makes the landscape appear like a huge canvas of brilliant green or gold, depending on the season.
History
Perlis was originally a part of the older kingdom of Kedah, which was conquered by Thailand in 1821. After restoration of the Sultan of Kedah to his throne in 1842, the Thais established Perlis as a vassal state.
In 1909 the Thais transferred suzerainty of Perlis from Thailand to Britain. Perlis came under Japanese occupation in 1941 during Second World War. Once the Japanese withdrew from Malaya, Perlis was placed under the British Military Administration.
In October 1945, the British laid out the plans for Malayan Union. Under the scheme, Pulau Pinang, Melaka and nine other Malay states were to be united under the Malayan Union. Malays opposition to the British plans to form the Malayan Union catalysed the movement for Independence. The Malay Federation was founded on 1 February 1948 and on 31 August 1957, Malaya achieved Independence.
Climate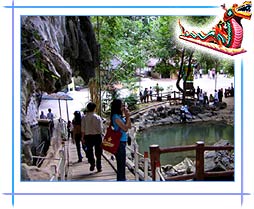 Perlis has a tropical monsoon climate and the temperature is uniform in the range of 21 degrees C to 32 degrees C, while the weather is generally dry and warm with humidity in the lowlands ranging from 82% to 86%. The state's average annual rainfall is around 2500 mm with the wettest months being from May to December.
Best Time to Visit
Though you can visit Perlis all round the year, but it is better to avoid visiting Perlis during the wettest months i.e. from May to December.
Tourist Attractions/Places to See
Gua Kelam (Dark Caves):
Located about 26 km from Kangar, the Gua Kelam traverse approximately 37 meters of limestone hills from Kaki Bukit on the Malaysian border to Wang Kelian near the Thai border. The caves were at one time used as a trading route between the locals and the Siamese.
Padang Besar:
Padang Besar, is a border market on the Malaysia-Thailand border. It is a shopper's haunt for Malaysians seeking good bargains. Electrical items, leather goods and clothes are some of the favorite buys here.
Kuala Perlis:
Located at the estuarine delta of the Sungai Perlis, Kuala Perlis is noted for its excellent laksa, a dish of rice noodles dipped in spiced fish-soup with sliced onions and cucumber. It is also the entry and exit point to Phuket Island and other coastal towns and villages of Southern Thailand, as well as to Pulau Langkawi.
Arau:
Arau is a royal town, located 10 km south of Kangar, is home to the Istana Di-Raja (Royal Palace) and the Masjid Negeri (State Mosque).
Tasik Melati:
Tasik Melati is a small but picturesque lake located in a lowland area about 8 km north of Kangar. More than 150 sandbar-islands may be seen all over the lake. Sampans can be rowed to these tiny islands. Elevated walkways extend out over the waters, providing hypnotic prospects out across the lake.
Gunung Medan:
Gunung Medan, situated 6 km south of Kangar, is a scenic 300-feet-high limestone outcrop. It is accessible by car on a winding road or on foot by stairways and walkways climbing up to the peak.
Snake Farm:
The Snake Farm is primarily used as a research facility to test and develop serums for the treatment of venomous snake bites. A large collection of snakes can be viewed here.
Shopping
Padang Besar and Bukit Kayu Hitam, the border towns are famous for their economical bargains. Padang Besar is a good market for leather goods, garments and household items. These are cheaply manufactured in Thailand and sold in town. Bukit Kayu Hitam is known for its duty-free shopping complex.
How to Reach Perlis
By Air:
Perlis has no airport of its own. The nearest airport is Alor Setar airport in Kedah. From there cab takes about 45 minutes to Kangar.
By Road:
Buses to Perlis are available from all the major towns of Malaysia.