The multi-cultural characteristic of Malaysia appears alive in its cuisine that proffers delightful culinary treat for all. Malaysian Food is not only eclectic, but also variegated in the way it has got traits of Malay, Chinese, Indian, Nyonya and Portuguese foods. As regards the traditional Malay food, it is exemplified by different spices and flavors. Amongst the popular Malaysian delicacies are Satay, Nasi Lemak, Rendang, Roti Canai, Murtabak, Laksa, Chicken Rice and Fried Noodles.
Chinese food that has become an indivisible part of Malaysian cuisine are steamed seafood dumplings with shark's fin, steamed crabsticks stuffed with fish paste, steamed soft noodles with shrimps, and deep-fried dumplings with salted eggs and red bean paste. Since a considerable population of Indians resides here, Indian gastronomy style is used frequently in the country. And here you can find numerous restaurants which are dedicated to serve North Indian and South Indian foods.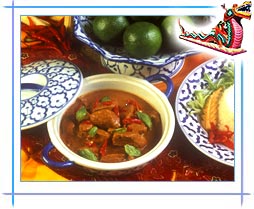 Nyonya food, which is essentially a combination of Chinese and Malay foods, is very much liked by the Malaysians and is served by many restaurants in the name of Straits Chinese food or Lauk Embok Embok. Eating out in Malaysia is real fun in the company of various restaurants that serve Thai, Malay, Indian, Chinese, Continental and Portuguese cuisines. While traveling in a foreign country, one must try out its cuisine but if, you don't want to, there are many restaurants that would take care of your choice.
Varying from five-star restaurants to road-side food stalls, you can relish the variety of foods available in Malaysia. Then whether you prefer vegetarian or non-vegetarian food, options are endless for you to choose from. Have pleasure in noodles prepared in Hokkien and Cantonese styles, Chinese Dim Sum served with spicy curries, Indian Masala Dosa, nyonya delicacies or any other gastronomic delight. If you don't want to eat from the above-mentioned options, international fast food chains would definitely please your taste-buds.