Sarawak-the largest state of Malaysia-is better known as the land of fabled White Rajahs, the hornbill and the orangutan. Located on the northwestern shore of the island of Borneo, Sarawak is a preferred tourist destination for those seeking culture, nature and adventure tourism. The rainforests of Sarawak are home to the richest and most diverse ecosystem of the world. The rich flora and fauna include the world's largest flower Rafflesia, squirrels and snakes that fly, plants that eat insects and various other species of plants and insects that are yet to be discovered.
History
Due to its location along the ancient trade routes of the China Sea, Sarawak was a center for trade for merchants from China, India and Arabia. Chinese coins and Han pottery found at the mouth of the Sarawak River show that Chinese traders had been on Sarawak from as early as the 7th century. Besides trade, immigrants came to Sarawak to take advantage of its abundant natural resources, which included gold, antimony, timber, and the famous Sarawak black and white pepper.
Sarawak later fell under the control of Sumatra's powerful Srivijayan Empire, which reached its height in the 11th and 12th centuries. Many Sumatran Malays settled in Borneo during this time. About a century later, Srivijaya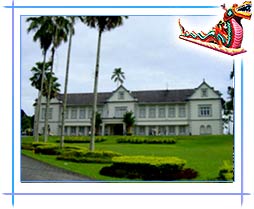 Empire crumbled under the attacks of the Hindu-Javanese kingdom of Majapahit, and this period left a considerable number of Indian remains in Sarawak. The Majapahit Empire fell in the early 15th century, just as Islam, which was introduced by Muslim traders, was gaining a foothold in the coastal areas of Borneo. Sarawak then came under the control of the Malay Sultanate of Brunei
In 1839, when Sarawak was rebelling against the Brunei Sultanate, an English adventurer named James Brooke arrived and volunteered to quell the revolt. Brooke was successful, and as a reward the Pengiran Mahkota of Brunei made Brooke the Rajah of Sarawak in 1841. James was succeeded by his nephew Charles Brooke in 1868, who in turn was succeeded by his eldest son Charles Vyner in 1917.
During the Second World War Sarawak was occupied by Japanese forces, but it was subsequently ceded to Britain after the war and became a British Crown Colony. Sarawak joined Malaysia in 1963 and today observes a democratic system of government.
Climate
Sarawak has equatorial climate. It is hot and humid throughout the year with average daily temperature ranging from 23°C during the early hours of the morning to 32°C during the day. It experiences two monsoons. The North East Monsoon, which usually occurs between November to February, brings with it heavy rainfall. The South West Monsoon from June to October is usually milder. Despite our monsoon seasons, the climate in Sarawak remains fairly stable throughout the year. Annual rainfall varies between 3300 mm to 4600 mm for the greater part of the country.
Best Time to Visit
The best time of year for visiting Sarawak is from March to August and October - November.
Tourist Attractions / Places to See
Sarawak Museum:
Located in Jalan Tun Abang Haji Openg, Sarawak Museum is one of Asia's finest museums. It houses a collection of Bornean ethnological and archaeological items and an exhibition featuring a reconstruction of the great Niah Caves, with remains of the Neolithic people who lived in the Caves
The Sunday Open Market:
The Sunday Open Market exhibits a vast variety of handicraft items that include woodcarvings, beadwork, bamboo and rattan products, woven clothes, hats, baskets, sleeping mats and pottery.
Kuching Skrang River Safari:
The river safari is a four-hour journey along the Skrang River and will take you to the Iban longhouses. The safari is a thrilling affair as it occasionally shoots the rapids.
Pepper Plantations:
Sarawak is Malaysia's largest exporter of pepper. Pepper plantations can be seen along the Kuching-Serian Road.
The Sarawak Cultural Village and Heritage Center:
A living museum located at Santubong, the Sarawak Cultural Village conserves and portrays the multi-faceted cultures and customs of ethnic groups such as the Ibans, Bidayuhs, and Melanaus. The Heritage Center is an integral part of the cultural village, which offers traditional arts of Sarawakians.
Santubong Fishing Village:
Santubong is an attractive beach resort. Hindu and Buddhist archaeological remains have also been found here.
National Parks:
Sarawak is also home to a number of National Parks. Some of the famous National Parks are Bako National Park, Batang Ai National Park, Gunung Gading National Park, Gunung Mulu National Park, Lambir Hills National Park, Similajau National Park, and Tanjung Datu
National Park
Caves of Sarawak:
Sarawak's massive limestone outcroppings are honeycombed with caves, carved over millions of years by the run off from tropical downpours. While most of the caves are for serious and well-equipped cavers only, sections of the more accessible passages have been equipped with lights and marked paths for tourists. They are: Clearwater and Wind Cave, Deer Cave and Lang's Cave, Wind Cave & Fairy Cave.
Shopping
Sarawak is a wonderful place for buying antiques and handicrafts. In Kuching, the Main Bazaar, once the main shopping area fronting the port, has been preserved as a colorful reminder of the city's trading past. Now it houses dozens of arts and crafts, curio and antique shops as well as travel agents offering up-country adventures. Similar shops in Sibu, Miri and Kapit also sell native handicrafts and antiques.
Some of the popular buys include Iban umbu (hand-woven textiles) that make attractive wall hangings or table covers and Malay kain songket, which is a popular fabric intricately woven with threads of gold and silver.
How to Reach Sarawak
The capital of Sarawak is Kuching. Kuching International Airport has direct flights to Kuala Lumpur, Singapore, Bandar Seri Begawan and Perth in Western Australia and to Hong Kong via Kota Kinabalu.
There are also direct flights from Kuala Lumpur to Miri and Sibu, from Johor Bahru to Kuching, and from Kota Kinabalu and Labuan to Kuching and Bintulu.
Sarawak is also well connected by road to all the major towns of Malaysia and buses are available for Sarawak from all the major cities.