Kuala Lumpur is a place of all seasons. Whilst the city is developing at a fast pace, its spiritual roots are very much alive. Here people are busy in their hectic lives, yet they never fail to pay homage at their religious spots. Since Kuala Lumpur is inhabited by people adhering to different religions, here one can find numerous places of worship. The existence of Hindu temples, Chinese Temples, Mosques and Churches enlightens this diversity of religious places in Kuala Lumpur. Scroll further to know more about places of worship in KL.
Masjid Jamek
Masjid Jamek is acclaimed to be the oldest mosques of Kuala Lumpur. Located at the convergence of Klang and Gombak Rivers, the mosque was built in the year 1907. It used to be main mosque of Kuala Lumpur until Masjid Negara acquired its position in 1965.
Masjid Negara
Masjid Negara, sited in Kuala Lumpur, is distinguished as the national mosque of Malaysia. Sprawled in 13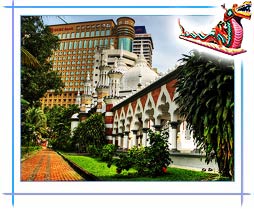 acres of landscaped gardens, the mosque is counted amongst the largest mosques of Southeast Asia with its capacity to accommodate 15,000 people at a time.
Sri Mahamariamman Temple
Sri Mahamariamman Temple is acclaimed to be the oldest and richest Hindu temple in the capital city of Malaysia-Kuala Lumpur. Since its foundation, the temple endowed with an important place of worship to the early Indian immigrants.
St Mary's Cathedral
St. Mary's Cathedral is the church of the Diocese of West Malaysia located along Jalan Raja, near Independence Square, in Kuala Lumpur. It is the chief office of the Anglican Bishop of West Malaysia, apart from being the mother church of the Diocese.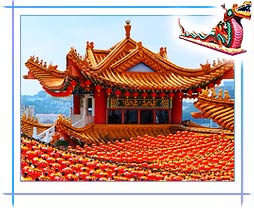 Sze Ya Temple
Sze Ya Temple is acclaimed to be the oldest Taoist temple in Kuala Lumpur. Located in the Chinatown area near Central Market, the temple was built by Kapitan Yap Ah Loy-one amongst the founders of KL, in 1864. Sze Ya Temple is the local version of Sin Sze Si Ya Temple.
Thean Hou Temple
The Thean Hou Temple is amongst the largest Chinese temples in South-East Asia. To be found atop Robinson Heights facing Jalan Syed Putra (Federal Highway) in Kuala Lumpur, the temple is sprawled in 1.67 acres of land. Goddess Thean Hou,