Location:
Jalan Tun Perak, KL
Built in:
1907
Significance:
Oldest mosque in Kuala Lumpur
How To Reach:
One can easily reach Jamek Mosque by hiring taxis, or by boarding trains, buses from the city.
Masjid Jamek is acclaimed to be the oldest mosques of Kuala Lumpur. Located at the convergence of Klang and Gombak Rivers, the mosque was built in the year 1907. It used to be main mosque of Kuala Lumpur until Masjid Negara acquired its position in 1965. Another considerable fact about the mosque is that, it was constructed on the first Malay Burial Ground in KL. Jamek Mosque was opened by the then Sultan of Selangor-Sultan Sir Alauddin Sulaiman Shah, in 1909.
This remarkable red-brick and marble structure boasts highly of its Moorish architecture, in fact, is a nice specimen of North-Indian Islamic architecture. The mosque was designed by Arthur Benison Hubback, the same British engineer who worked upon the renowned Sultan Abdul Samad Building too. It encompasses three domes that cover the prayer hall. Its brick walls and arched colonnades are topped by numerous cupolas and minarets.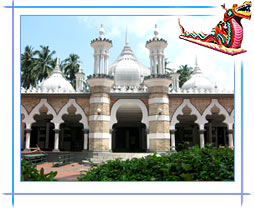 While the 21.3m high central dome dominates the skyline, the two 26.8m high minarets in red and white stripes at the corners stand upright in perfect conjunction. At that point of time, its construction cost RM32, 625, which was raised by donation from the Malaysian community and Government funds. Commonly known as the Friday Mosque, Masjid Jamek receives loads of people who come for their ritual prayers on Friday. The term 'Jamek' (Jamik) is Arabic and actually means a congregation place.
The mosque is an unspoiled place that heaves in peace and tranquility, together with its coconut palms and curved steps touching the water's edge. It is to be found close to some of the major tourist places, like Merdeka Sqaure, Royal Club, Chinatown, etc. As you're heading for a mosque, remember to wear modest clothes. And altogether, a visit to Jamek Masjid would be an enlightening experience.