The sophisticated city of Kuala Lumpur undeniably observes loquacious and gushing nightlife. In fact, the metro dazzles vibrantly when the sun retires to its couch. And the nightclubs arrange their paraphernalia rightly to coax the masses. If truth is to be told, the entire city shrouds in pubs, lounges, bars, & discotheques in the hours of darkness; these joints spare no efforts to entertain the night traffic.
A great deal of lounging, dancing, and boozing can be seen explicitly in these nightclubs. At such places, you can spot the hottest babes and the coolest chaps dancing away to glory. Most of the KL's happening nightclubs are located near Jalan Sultan Ismail and Jalan P. Ramlee. Indeed the hotels are also not behind to offer glittering extravaganza in dark hours. And as expected, your expense would be determined by the club or lounge you select to spend some lively hours.
The bustling activities generally start from 10pm onwards, however some nightclubs unwrap earlier. Among the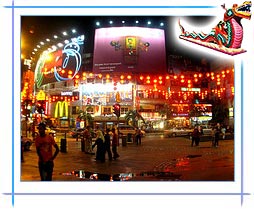 Chinese, Karaoke is a popular activity in which they get to croon oldies and current pop music from Hong Kong. Seeing that Malaysia is a Muslim country, the authorities put in force 3am closure for nightspots in city areas, though clubs and pubs in urban residential areas must close up by 1 am. Amongst the extensive range of nightspots in Kuala Lumpur, check out what suits you the best.
Nightclubs & Discotheques
Nowadays the term 'nightclub' has taken over the conventional term of 'discotheques'. So, going with the current pattern, Kuala Lumpur offers heaps of nightclubs to the nightlife seekers. Most of the famous clubs are sited in the Golden Triangle area, particularly in Bukit Bintang, Jalan Ampang, and Sultan Ismail. Though dance floor makes the highlight of any club, café-like dining opportunities sounds great to revelers who just want to chill out. The exclusive nightclubs have contemporary décor; some also have their own themes.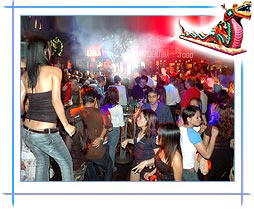 Pubs & Bars
Pubs & bars offer a great time to sit and converse with friends, in conjunction with lively ambience. In KL, the popular pubs and bars are sited in the urban residential areas of Bangsar and Hartamas. These watering holes have a wide range of alcohol though beer remains the most popular. Music is another feature, with occasional live bands to keep the patrons amused. Most of the bars are typical having casual décor and dim lighting; while some have their own themes which could range from Cuban, Japanese to Classic-retro.
Cafes & Restaurants
During the dark hours, the city folks also like going to cafes that mingle pub and bar-like atmosphere, along with the dining opportunities of a restaurant. A few cafes and restaurants have a big al-fresco dining area, in the company of a DJ. Here people can choose from a wide range of local and international liquor. Such restaurants usually have an arena for performances by bands and solo artistes. Hard Rock Café and Planet Hollywood are rated amongst the top in this category.
Karaoke Lounges
Nowadays, karaoke lounges are getting more and more popular in Kuala Lumpur. With the youth always desiring something different, Karaoke make a novel choice where people get to sing. The design & décor of these lounges differ as per their space arrangement. Most of them have the Chinese theme. Here patrons can pick from a series of local and international hits from the TV, turn on the volume, pick up the microphone and sing in the way, they want. Usually groups of friends frequent these lounges to have a fun time, altogether.