Water appears at its best when it is merged with greenery. So how would you expect cascading waterfalls amidst tropical rainforests? Absolutely stunning know. Langkawi, the archipelago of 99 islands, is the best place to view such stunning vistas of waterfalls. It has many natural waterfalls that present a truly cherishable sight to the onlooker. Be it Seven Wells, Air Terjun Temurun, Durian Perangin Falls or Lubuk Sembilang Waterfalls, each cascade is beautiful in its own manner. Read further to know more about waterfalls in Langkawi, Malaysia.
Telaga Tujuh
The Telaga Tujuh, precisely called Seven Wells, is a beautifully crafted geological manifestation. While taking the cable car ride to the top of Gunung Mat Cincang, you can perceive the awe-inspiring view of Telaga Tujuh Waterfalls.
Temurun Waterfalls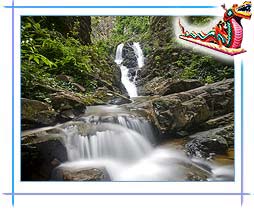 Temurun is to be found in the Mat Cincang Nature Park of Datai Bay, in Langkawi. This 30-meter-high waterfall cascades its waters down into a pool below. One can easily swim in this picturesque pool. The waterfall offers refreshing waters of the mountains to the visitors.
Durian Perangin Falls
Durian Perangin is a 14-tier waterfall that flows down the slopes of Mount Raya, in the Raya Mountain Nature Park area. It is marked by unique rock formations and crystal-clear water. Around the falls, one can find a rich variety of vegetation in abundance.
Lubuk Sembilang Waterfalls
Lubuk Sembilang Waterfalls is also found in Raya Mountain Nature Park area. It is accessible through the 5-km-jungle track from Durian Perangin. This cascading fall consists of a 2-km-riverstream which is ideal for swimming and jungle-trekking activities.