Location:
Jalan Air Hangat, 14km northwest of Kuah, Langkawi
Highlights:
Hot water springs, Cultural programmes
Significance:
The waters of hot springs are said to have curative properties.
How To Reach:
One can easily reach here by hiring taxis, or by boarding buses from the island.
Air Hangat Village is a brilliant combination of spa and cultural park. It is situated along Jalan Air Hangat, about 14km northwest of Kuah in Langkawi. This legendary spot is a transformed version of the earlier Telaga Ayer Hangat, which literally means hot springs well. In Malay, the term 'Air' implies 'water' and 'Hangat' implies 'hot'. The village is actually a contemporary complex, spread in four acres of land.
The village's name is correlated with an ancient legend of two families who hurled jugs, pots and pans at each other, during a dispute. As the legend states, one of the jugs filled with boiling water knocked down on the ground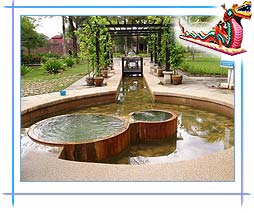 and at once a hot spring gushed out of the spot where the village is now located. However, more than this legend, the possible source of hot spring is geothermal heating of the island.
Whatever be the fact behind its origin, this village is actually lovely and worth spending a quality time. The main attractions, here, comprise a striking three-tier fountain together with an 18m-high carved river stone mural, which illustrates the renowned legend of the derailing battle between Mat Cincang and Mat Raya. There are four small hot water pools, and their waters are believed to have curative properties.
Besides, you can watch the cultural programmes, traditional sports and games at the village. These programmes include Malaysian and South-east Asian dances, and activities like batik painting, elephant performances and kickboxing. You can also check out the souvenir shops, which offers good batik products and other things. Moreover, a café and a lounge at the site offer a perfect place to loosen up and enjoy the view.