Location:
17km north of Kuah, Langkawi
Highlights:
An amazing variety of flora and fauna
How To Reach:
One can reach here by hiring speedboats from Kuah Jetty.
The Pulau Singa Besar, literally the Island of Big Lion, is a beautiful island and a constituent of the Langkawi archipelago. Located 17km north of Kuah, the island extends 6.5km from north to south and 2.5km from east to west. Pulau Singa Besar is to be found between Pulau Beras Basah to the west and Pulau Dayang Bunting to the east, in the southwest of Pulau Langkawi. It boasts of unique geology and has a distinctive formation called the Singa (Lion) Formation.
The sedimentary rocks, found on the island, are alleged to be among the oldest rocks dating back 500 million years, in Malaysia. The Island of Big Lion features steep hilly land which is covered with lush tropical forests. Its southern part is largely rocky and lacks soil, while the northeastern part is influenced by limestone outcrops. The island has some of the most exotic species of flora and fauna, quite different from the mainland. Here you can see the Diptherocarp, Kelubi and Cycas in abundance.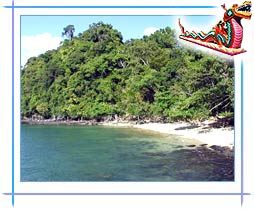 Due to its unspoilt natural beauty and abundance of flora and fauna, Pulau Singa Besar was declared as a forest reserve and a permanent bird and animal sanctuary in 1988. While meandering through the woods, you would come across Lizards, Mouse Deer, Macaques, Eagles, Monkeys, Deer, Iguanas, Peacocks, Hornbills and various other animals freely roaming in the forests. To enjoy the panoramic view of wildlife sanctuary and wild creatures from a distance, there are observation posts throughout the island for visitors.
Some other facilities, available here, are jungle treks, lookout points, rest areas and campsites. No hotels or chalets have been built on the island to preserve the natural surroundings of the island. If you wish to spend a night here, you can do camping, however, you have to bring you own tents and equipments. Its tranquil beaches are good enough to bask or to enjoy swimming in the serene waters. Moreover, wooden walkways and paths have been crafted on the island shores which are suited enough for treks.
At low tide, the coral bed of island comes into view, of which some reefs are dead owing to sediments brought by currents from the Straits of Malacca. Visitors are required to take permit from the Fisheries Department of Malaysia to visit Pulau Singa Besar. A visit to this island is an exhilarating experience in itself.