Location:
Lubok Semilang, Langkawi
Highlights:
A significant collection of rare books
Significance:
It is the first and the only book village in Southeast Asia.
How To Reach:
One can easily reach here by hiring taxis, or by boarding buses from the island.
The Kampung Buku Malaysia, precisely Malaysia Book Village, is known to be the first and the only book village in Southeast Asia. Located at the foothills of Gunung Raya in Langkawi, it is just about a 10-min drive from the Langkawi International Airport. It is a part of the International Book Villages and the Book Towns Movement. Malaysia Book Village is the 18th such village in the world. Being sited amidst a lush green forest, it offers a peaceful setting to the book lovers to treat their hobby.
The Book Village is built in the traditional Malay Kampung (village) style. It has six quaint and fascinating wooden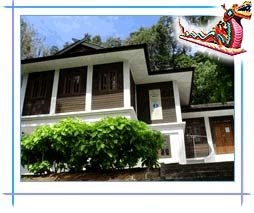 buildings, which comprise a sizeable variety of local and international books covering several topics and languages. These books also include a few second-hand, and numerous rare and antiquarian books. Stylized on the lines of Hay-on-Wye Book Village of England, Langkawi Book Village also put rare books on sale, for a lesser cost. The extensive assortment of books covers subjects like Malaysia, Arabic Literature, Sports, Travel, Gender Status, European Studies, and Asian Languages.
The collection of rare books consists of The Ancient Khmer Empire by Lawrence Palmer Briggs, The Real Malay by Sir F.A. Swettenham, Malay-English dictionary by R.J. Wilkinson, Malay Sketches by Frank Athelstane Swettenham, The Tiger of Trengganu by Lt Col A. Locke, On Jungle Trails by Frank Buck, Sacrilege in Malaya by Pierre Boulle, and A Dictionary of Malayan Medicine by John D. Gimlette. To put in short & snappy terms, Malaysia Book Village is a great place to visit for book-lovers and book-collectors.