Location:
Padang Mat Sirat, Langkawi
Highlights:
Exquisitely designed paintings and other artistic items
Significance:
It is known as the birth place of batik art in Langkawi.
How To Reach:
One can easily reach here by hiring taxis, or by boarding buses from the island.
Atma Alam Art Village is recognized as the original art village of Malaysia. Indeed it's the birth place of hand-made batik in Langkawi. To be found in Padang Mat Sirat, this village was established by a young couple embarked to realize a long-time dream. Aza Osman who was an oil painter and Roshadah Yusof who was a batik artist, together, produced a brilliant haven of local art and culture. The Art Village, truly, showcases the creative oomph of people.
This exotic village comprises floor space of half acres in which batik workshop, batik showroom, art gallery, batik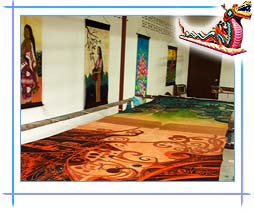 gallery and handicraft display are accommodated. Here all the colorful elements of local crafts are pooled together to represent the true colors of local craftsmanship. Moreover, the village also offers high-quality local products, which come in a remarkable variety and designs. Some of these products are cushion covers, purses, handbags, silk batik casual wear, and scarves.
Atma Alam is a great place to treat your artistic nerves and take part in the lively atmosphere of the village. Here, you can choose from a wide collection of regional mementos. You can also put your hands on the original oil-painted masterpieces on canvas and oil and batik paintings from a rich assortment of paintings. And to your content, all these things come with an affordable price tag. Besides, you can also make your own batik designs on silk or cotton here. So, come and experience this beautiful village of Langkawi.