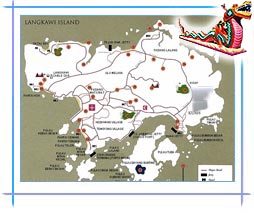 Area:
47,848 hectares
Location:
06
o
19' N - 99
o
50' E
Langkawi, a district of Malaysian state-Kedah, is an archipelago in the Andaman Sea. It comprises a cluster of 99 islands, however, 5 additional islands are visible during low tides. Langkawi lies on north of the Strait of Malacca, and is about 30 kilometers away from the north-western coast of Peninsular Malaysia. It is to be found next to the border of Thailand. It stretches between the latitudes of 06°19' N and the longitudes of 99
o
50' E.
The archipelago has a total land mass of 47,848 hectares, while the main island itself has 32,000 hectares. The focal island of Langkawi sprawls across an area of 25 kilometers from north to south. As regards the size, Langkawi Island is the largest amongst all the islands. Pulau Dayang Bunting and Pulau Tuba are fairly smaller whereas other islands give the impression of mere dots in the emerald green ocean, when seen from the air.
Langkawi is divided into 6 districts, including Mukim Kuah, Ulu Melaka, Padang Matsirat, Ayer Hangat, Bohor, and Kedawang. Gunung Raya, at an elevation of 890 meters, is the highest point of the archipelago. Its coastal areas are usually covered by alluvial soil interspersed with limestone ridges. The islands of Langkawi boast of lush forests, interesting rock formations and several caves with their dramatic stalactites and stalagmites.