Location:
In the south-eastern part of Langkawi Island
Attractions: Eagle Square, Lagenda Park, Al-Hana Mosque, etc.
Significance:
It is the district capital and the main landing point of Langkawi.
How To Reach:
One can reach here by hiring ferries from Peninsular Malaysia or by air from many other countries.
Kuah, which literally means gravy in Malay, is the capital city of Langkawi district of Kedah state in Malaysia. To be found on the southeastern side of the island, this bustling town is the gateway to the Pulau Langkawi. Once that had been a rustic town with few avenues, today Kuah has become a full-fledged center of plush hotels & shopping-cum-business complexes. However, it is not over-crowded like other metropolitan cities.
Since Kuah Jetty serves as the main point of entry to Langkawi, tourists definitely spend some quality time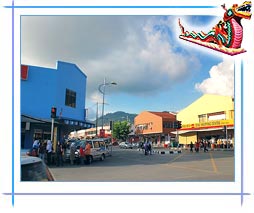 browsing this place. In fact, it is the place from where you can take ferries to other neighboring islands. Kuah is, undoubtedly, a great duty-free shopping town with a vast range of goods to shop for. Though the city doesn't observe scintillating nightlife, the restaurants that sell seafood, together with bars and pubs catch the most attention of the nocturnal buddies.
Kuah boasts of many attractions such as Dataran Lang, Lagenda Park, Makam Mahsuri, Langkawi Gold Club, Royal Langkawi Yacht Club, Al-Hana Mosque, etc, that are sure to please the tourists. Moreover, the presence of hotels in the town keeps the spirit of travel and tourism always alive. Kuah is indeed flourishing as a commercial hub with shopping complexes, restaurants, fast food outlets, hotels and handicraft shops blossoming all over the town.