Location:
2km west of Tanjung Rhu Beach, Langkawi
Highlights:
The beach has got black colored sand.
How To Reach:
One can easily reach here by hiring taxis, or by boarding buses from the island.
The Pantai Pasir Hitam, which literally means Black Sand Beach, is a spectacular beach on the island of Langkawi. This short stretch of beach lies 2kms west of Tanjung Rhu Beach. The shoreline boasts of sand, which isn't completely black but it's actually like a mixture of black sand and normal sand. However, like other black sand beaches, the sand isn't volcanic in nature. And iron oxide is understood to the cause of this observable fact.
This beach serves as a major tourist attraction for people coming from far lands. People, coming here, get surprised to see such shimmering sands and the stories associated with it. According to the folklores, this beach had been the witness to the Battle of the Birds and the remnants of the war are still discernible on its sands. Another tale states that killer eddies and whirlpools became the water graves of naive sailors and blackened the sands of this beach.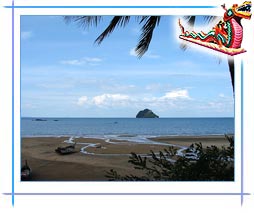 Other fable narrates that a fisherman received the wrath of a mermaid, as he stole her ring. The mermaid's curse charred the land and the black sands became the sign of the man's offense. People also consider that the black sand beach is the result of burnt soil from the rice fields which were burnt during the Siamese War. The burnt soil, probably, flowed to the sea and got washed up at this beach.
Geologists say that the sand is rich in cassiterite and stannous oxide, which have also given this color. However, the exact reason behind the black soil has not been discovered yet. The Beach is not suitable for swimming as it is dotted with boulders. But it is ideal for doing some meditation or reading a book. Pantai Pasir Hitam has got an old age charm due to the existence of an ancient fishing jetty. It is good place to spend relaxing time and enjoying local food at the food stalls.