Also Called:
Hari Raya Aidilfitri
Duration:
1 day
Celebrated by:
Muslims
Attractions:
Decorations, Lightings, Delicacies etc
Essentially a Malay term for Eid-ul-fitr, Hari Raya Puasa literally means "Celebration Day of Fasting". This joyous occasion falls on the 1st day of Syawal, the Muslim month. Also called Hari Raya Aidilfitri, it marks the successful completion of fasting during Ramadhan - the ninth month of Islamic Calendar. Fasting (in the month of Ramadhan) is one amongst the five pillars of Islam and is usually compulsory for every Muslim. The sight of the new moon determines the commemoration of this cheerful occasion.
Hari Raya Puasa stands for personal triumph i.e. a victory of self-discipline and abstinence that represents renewal and purification. Muslims usually observe 'open houses' during the month to entertain and treat friends. Hari Raya Puasa is observed with all rituals and practices in Malaysia. In fact, it is celebrated on a grand level because maximum of the Malays practice Islam. On this day, people wear new dresses and gather for mass prayers in the morning.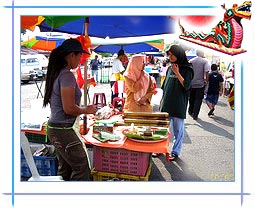 After performing prayers, people go to the cemeteries to pay homage to their deceased family members. People invite their friends and relatives to celebrate the event. The traditional Malay delicacies, such as Ketupat, Lontong, Nasi Padang and Beef Rendang, are made and dished up on the event. Decorations and bright lighting are done in mosques, homes, government and commercial buildings to commemorate the festival. To mark the festival, people light oil lamps in their houses and workplaces.
This occasion also stands for forgive and forget, where youngsters ask pardon from the elders for their mistakes. Along with the blessings, the elders grant packets of money to the children. Shopping complexes and malls also take benefit of the festival by offering discounts and arranging special programs for the visitors. However, the carousing goes on throughout the month, public holiday is declared for first two days in Malaysia.