Location:
Ampang district, Kuala Lumpur
Highlights:
Petronas Towers, KL Convention Center, Aquaria KLCC, etc.
How To Reach:
One can easily reach KLCC by hiring taxis, or by boarding buses, trains from the city.
Kuala Lumpur City Centre, abbreviated as KLCC, is acclaimed to be a city-within-a-city. Yes, KLCC is the prominent commercial as well as the entertainment hub that is nothing short of full-fledged city in Kuala Lumpur. Located in the Ampang district, it is home to some of the illustrious buildings, hotels, clubs, shopping malls, banks, restaurants, etc, of Malaysia. It is also the major business district of the capital where hundreds of corporate houses are established. Over and above, KLCC is known to be one amongst the largest real-estate developments in the world.
The KL City Centre also comprises of Suria KLCC, Kuala Lumpur Convention Center, Petronas Art Gallery,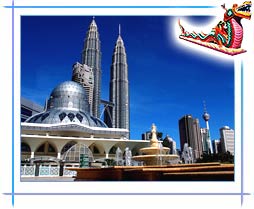 Petronas Philharmonic Hall, Aquaria KLCC, etc. Petronas Twin Towers, the world's tallest twin towers, are also addressed by this posh complex. Its planned location, high-tech facilities and fresh milieu attract not only locals but tourists as well. The Suria KLCC is the most happening shopping mall of Malaysia where you can find all the renowned international brands under one roof, while Aquaria KLCC is the country's first commercial aquarium.
For nightlife lovers too, there are adequate arrangements to pass away the dark hours in and around the City Centre. Some of the much-talked-about bars and pubs are to be found in the adjoining areas and roads of KLCC. And these watering holes and discotheques can be seen completely packed during the nocturnal hours. The lavish restaurants sited here, too, have a class about them.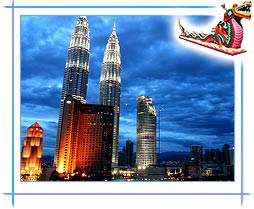 On top of their luxurious interiors, these eateries serve gourmet's delight which never fails to satisfy the taste buds of people.
Here art galleries and cultural programmes are other options to explore and enjoy the cultural heritage of Malaysia. Besides all this, one can perceive a good-to-see contrast at the Centre where skyscrapers are bordered with green belts like KLCC Park. In fact, the KLCC is synonymous to vocation and entertainment to the locals in Kuala Lumpur because it comprises each and every thing, one can think of. Due to all this, it remains the favorite hangout of city inhabitants and travelers. In short, no visit to Kuala Lumpur is complete without a trip to this exciting City Centre.