Location:
Jalan Conlay, Kuala Lumpur
Highlights:
Amazing variety of Malaysian handicrafts
How To Reach:
One can easily reach Craft Complex by hiring taxis, or by boarding buses, trains from the city.
The Kompleks Budaya Kraf, literally Cultural Craft Complex, is the celebrated place to catch amazing handicrafts, native to Malaysia. Located along Jalan Conlay in Kuala Lumpur, it is controlled by the Malaysian Handicraft Development Corporation-a constitutional body under Ministry of Culture, Art and Heritage. It presents some exclusive Malaysian handicrafts, such as, silk kaftan, bathrobes, silverware, mengkuang products, pewterware, glassware, pottery, silk batik paintings, and songket (brocade material).
This wooden handicraft complex is spread over lush landscaped gardens. KL Craft Complex is actually a one-stop craft centre which presents a distinctive range of craft-related activities and programmes. It's a place where you can explore Malaysian culture of crafts and in fact, you can also have a bash making some items. This whole complex is divided into 4 main blocks, i.e. Craft Museum, Craft Village, Artists' Colony, and Karyaneka Craft Boutique.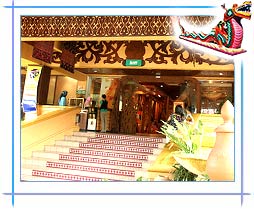 While the Craft Museum showcases a wide range of Malaysian handicrafts and artifacts, craft demonstrations and practical interactive sessions are provided at the Crafts Village. So, here you can actually try your hand at making batiks, pewter, ceramic or woodcarving. It's sheer fun. Moreover, another place to head for is the Artists' Colony which gives the space to Malaysian artists to express their creativity through artworks.
Now it's turn to do some shopping and get some really exciting craft products that could be used for personal embellishment, interiors décor, souvenirs, textiles or corporate gifts. To get all this and much more, just make a move towards the Karyaneka Craft Boutique. For tourists and visitors, the Cultural Craft Complex organizes several events and weekly cultural shows at Laman Wau. To concise terms, the Kuala Lumpur Craft Complex is a must-visit place to apprehend the culture of Malaysia from close.