Location:
Damansara, Kuala Lumpur
Established in:
1989
Highlights:
27-Hole Golf Course, Karaoke Lounge
How To Reach:
One can reach KGPA by hiring taxis or by boarding buses, trains from the city.
Kelab Golf Perkhidmatan Awam (KGPA) is a major public golf course, nestled in the green belt of Damansara-a suburban area of Kuala Lumpur. Established in 1989, the 27-hole course is graced by natural bounty and undulating terrain, which further provides great challenge to the proficient players. Its championship course, amidst hills, lake and lush greenery measuring 8,887 meters, is exigent par 72 golf course.
Its special course marked by forests measures 2,446 meters, and caters to the intermediate and senior golfers.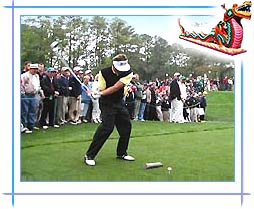 The KGPA has a full-fledged driving range and pro shop, which are open to the public. In fact, it boasts of numerous bays and two professionals to attend to the training requirements of people. A small kiosk, to be found here, sells urgent needs of golfers, such as, balls, gloves, t-shirts and a selected range of golf shoes.
Besides all this, the golfers can also quench their taste-buds at the accessible food and beverage bar. To arrange for functions and grand buffet, the KGPA has a huge function room boasting of the majestic Roman-architecture. Its Karaoke Lounge caters to the amateur singers who otherwise remain bathroom singers only. Swimming Pool, Tennis Court and Gymnasium are some other salient features of this bounteous golf course.