Airport Name:
Kuala Lumpur International Airport
Location:
Sepang, Selangor Darul Ehsan
Altitude:
21 m (71 ft) above sea level
Runways:
2 (Two)
Terminals:
2 (Two)
Type:
Public
Code:
KUL
Kuala Lumpur, being the gateway to Malaysia, receives scores of people throughout the year. Considering the requirements of international visitors in mind, Kuala Lumpur International Airport was constructed in 1998. Commonly called KLIA, it is one amongst the major aviation hubs of Asia and also the main international airport of Malaysia. KLIA is located in Sepang district of Selangor state, about 50 kilometres in the south of Kuala Lumpur.
In fact, this airport can also be used as a landing site for the Space Shuttle in emergencies. Kuala Lumpur International Airport is competent of managing 35 million passengers and 1.2 million tonnes of cargo, annually.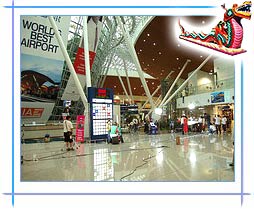 At present, KLIA is ranked as the world's 13th busiest airport. It is managed by Malaysia Airports (MAHB) and is the airline hub for Malaysia Airlines, MASkargo, AirAsia, and AirAsia X.
Presently KLIA is serving Klang Valley Metropolitan Region, Greater Klang Valley, Selangor, Shah Alam, Malacca, and South Perak. Being the country's main import-export center, the airport is one of the important constituents in the economy of Malaysia. Besides, KLIA is the world's first airport to be endorsed with Airport Service Quality (ASQ) assured certificate from Airports Council International (ACI).
Kuala Lumpur International Airport is outfitted with all the most modern amenities to keep the passengers at ease. More than 55 airlines operate from within the two contemporary terminals of the airport. Moreover, KLIA has a full-fledged shopping complex, animal hotel, and baggage-handling system to offer to its guests. Along with innumerable food counters, the airport also has provisions for emergency situations, like fire, sudden landing, etc.