Location:
Opposite the Merdeka Square
Built During:
1894-97
Highlights:
Big Ben-The Clock Tower
How To Reach:
One can easily reach here by hiring taxis, or by boarding trains, buses from the city.
Since long, Sultan Abdul Samad Building has been a landmark for the capital city of Malaysia, Kuala Lumpur. Constructed in 1897, the building was designed by a British architect-A.C Norman. And it was Norman who essentially studied different aspects of Islamic architecture and came up with the Moorish design. Its strategic location at the centre of the old mining town makes it easily accessible from every part of Kuala Lumpur.
Indeed its Moorish façade duly reflects the cultural set of this country. The edifice imbibed its name from Sultan Abdul Samad, who was the ruling sultan of Selangor at the time of its construction. The building was intended to address numerous important government departments, during the British administration. Since Merdeka Square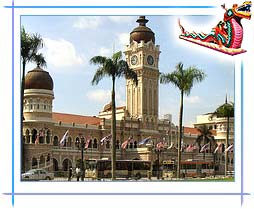 stands just opposite to it, this building has seen some of the most memorable events in the history of Malaysia like hoisting of the Malayan flag after independence on 31 Aug' 1957.
Sultan Abdul Samad Building was the largest of its times, constructed entirely of brick. Its erection started in 1894 and took about 4 million bricks, 2,500 barrels of cement, 18,000 pikuls of lime, 50 tons of steel and iron, 5,000 pounds of copper, and 30,000 cubic feet of timber. It was completed in 1897 at a whopping cost of 152,000 Straits Dollars. Its frontage is 137.2m (450 ft) in length with a commanding porch in the centre. It appears absolutely distinctive with its shiny copper dome and the 40m high clock tower called Big Ben.
Earlier the building used to house the Apex Court of Malaysia, the Supreme Court (the Federal Court), and the Court of Appeal. Now when these courts have moved to the Palace of Justice, sited in Putrajaya; the building is just quarters to the Commercial Division of the High Court of Malaysia. Some of the important events, like the National Day Parade, New Year's Eve, etc, are celebrated in its forefront. In brief, Sultan Abdul Samad Building is a place to see and admire the heritage structure in Kuala Lumpur.