Location:
Close to Bukit Bintang, Kuala Lumpur
Attraction:
Amazing range of products for shoppers
Highlights:
Road-side restaurants
How To Reach:
One can reach Petaling Street by hiring taxis, or by boarding buses, trains from the city.
Petaling Street, called Jalan Petaling in Malay, is actually a Chinatown that is notorious for pirated clothes and accessories in Kuala Lumpur. Situated in the west of Bukit Bintang, the street though doesn't only offer bootleg products but also amazing local delicacies. Bargaining is a common spectacle here and the street is generally crammed full with locals and tourists. This place has restaurants and food stalls galore, offering local favorites, such as, hokkien mee, ikan bakar, asam laksa, and curry noodles.
Here most of the traders are Chinese though Indian, Malay, and Bangladeshi traders also thrive. Recently in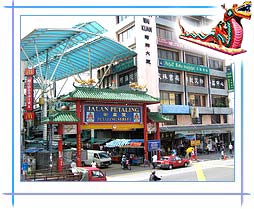 2003, the street underwent a major renovation and got two Chinese arches placed at its both ends. The best part about this street is, people know that they are buying fakes still this market fascinate not only tourists but locals as well. And that's what, which makes Petaling Street a distinguished place to shop for counterfeit branded products.
If you're looking for cheap clothes, fabrics, handbags, souvenirs, electronic items, watches, CDs, Chinatown is the just right place to aim for. While buying things from this market, prepare yourself to bargain a lot because things, like watches, clothing and all other counterfeit items, are quoted on higher prices. It is very much possible that you might get things on half or one-third of the quoted rates using right techniques of haggling.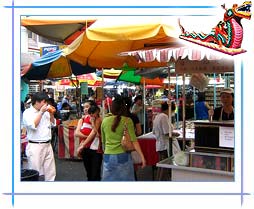 Chinatown, along with its distinct shop houses, colorful temples, great restaurants and bustling night market, still retains the charm and character of the times past. The area is also known for housing many budget hotels that are smaller family owned hotels, which offer clean rooms and personalized services. In a nutshell, Petaling Street is a place that virtually never sleeps; the activities of haggling and eating can be seen here until the wee hours of morning.