Location:
Within KL Lake Garden
Established in:
1994
Highlights:
Merdeka Sun Clock, Observatory, Arianne IV space engine
How To Reach:
One can easily reach Planetarium Negara by hiring taxis, or by boarding trains, buses from the city.
Planetarium Negara Malaysia, literally the National Planetarium of Malaysia, is a centre for space science studies. Located atop a hill in Kuala Lumpur Lake Gardens, the planetarium provides an insight of outer space - the evolving frontier. The planetarium was formally opened on 7 Feb' 1994 by the former Prime Minister, Tun Dr. Mahathir Mohamad. Sprawled in 32 acres of area, the National Planetarium is owned by the Ministry of Science, Technology and Environment of Malaysia.
Corresponding to country's endeavors of sending its first astronaut into the space, the Planetarium Negara plays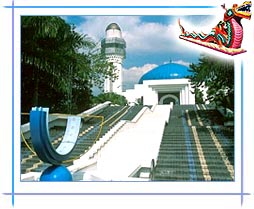 a significant role of promoting space science to the public at large. This striking blue-domed structure offers electrifying exhibitions on astronomy. The planetarium's structure is a rare combination of Islamic architecture and astronomy, which actually makes it appear like a mosque though with revolutionary looks.
The National Planetarium encompasses Space Theatre, Space Science Exhibit, Resource Centre, Viewing Gallery, & Observatory Park. While heading towards the main entrance, you fill see a fountain area along with the Merdeka Sun Clock, which is a bowl-like and crescent shaped sundial that tells accurate time. Earlier this sundial was located between Merdeka Stadium and Stadium Negara; it was named 'Merdeka' to commemorate the country's independence in 1957.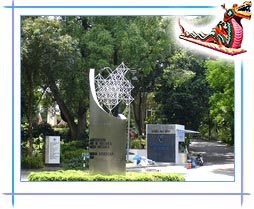 Move further and enter the working observatory, which boasts of a 14-inch (35.5cm) telescope. Whilst being there, don't afford to miss the Space Theatre that screens Space Science and Sky Movie Shows every day. Also check out the permanent exhibits that are displayed in the main hall. One amongst them is Arianne IV space engine, which is one of the engines that were used to launch MEASAT 1-Malaysia's first satellite. There is one space theme park too, which houses the replicas of ancient observatories.
Moreover, this building is connected by an overhead pedestrian bridge to the National Museum. So, going to the planetarium, along with the museum, would be all the more beneficial and informative.