Malaysia is amongst the most beautiful countries of South East Asia. In case you have decided to land here and thinking about 'how to reach', then just be at ease because the country is connected to other parts of the world via several modes of transport. For traveling to Malaysia, firstly assemble all your required travel documents and get ready to hit the charismatic land. One more thing deserves mention is, besides Peninsular Malaysia if you're planning to visit East Malaysia too, get a separate visa for it. Getting to Malaysia would appear really easy as you scroll down the page.
By Plane
Kuala Lumpur International Airport is the major airport that handles majority of the international traffic to Malaysia. Almost every airline across the world operates flights to and from here including
Bangkok
,
Hong Kong
, Indonesia. Other airports that take care of international passengers are located at Johor Bahru, Langkawi, Malacca, Penang, Ipoh, Kota Kinabalu (Sabah), Kuching (Sarawak) and Miri (Sarawak).
By Train
Malaysia can be reached by train from Thailand and Singapore. However, Thailand trains commute between Bangkok and Butterworth, and Malaysia trains run between Kuala Lumpur and Hat Yai. From Singapore, trains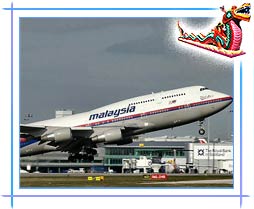 run for two destinations - Kuala Lumpur and Tumpat.
By Bus
Long-distance buses operate from almost all neighboring countries to Malaysia. As regards Indonesia, direct buses run between Pontianak (West Kalimantan) and Kuching (Sarawak). From Singapore, a large number of buses operate to different destinations such as Malacca, Kuala Lumpur, Penang and various East Coast cities. Bangkok or other Thai destinations can be reached easily by boarding bus services offered by operators in Kuala Lumpur.
By Road
An International Drivers Permit (IDP) is requisite to get into Malaysia by road. However, land crossings are feasible from southern Thailand and northern Singapore into Peninsular Malaysia, and from Brunei and Kalimantan into Sarawak. From Brunei, the main crossings that help entering Malaysia are sited at Sungai Tujoh (Miri, Sarawak) to Bandar Seri Begawan road (Brunei), and the Kuala Lurah-Tedungan checkpoint. The main passage for Indonesia lies at the Tebedu-Entikong checkpoint on the main Kuching-Pontianak road.
For Singapore, the two routes are the Causeway (linking Johor Bahru to Woodlands) and the Malaysia-Singapore Second Link (linking Tanjung Kupang to Tuas). For commuting from Thailand, the international checkpoints take in Wang Kelian (Satun) and Padang Besar (Padang Besar) in Perlis, Pengkalan Hulu (Betong) in Perak, Rantau Panjang (Sungai Kolok) in Kelantan and Bukit Kayu Hitam (Sadao) in Kedah.
By Boat
Numerous ferries connect various ports in Peninsular Malaysia with Sumatra (Indonesia), Thailand, Singapore, whereas Sarawak and Sabah are connected with Brunei, East Kalimantan (Indonesia) and Mindanao (Philippines). From Singapore and Phuket (Thailand), luxury cruises also operate to Malaysia. Passenger boats and ferries run daily from Singapore and Thailand.
On Foot
It's possible to walk into Malaysia through the Causeway between Singapore and Johor Bahru. About Thailand, one can walk into and out from Wang Kelian and Padang Besar (Perlis), Bukit Kayu Hitam (Kedah), Pengkalan Hulu (Perak) and Rantau Panjang (Kelantan).