Negeri Sembilian literally means "Nine States". It is so called because it comprises a federation of nine states. Located on the southwest corner of Peninsular Malaysia, Negeri Sembilan encompasses an area of 6,645 sq km and a 48 km long coastline.
Negeri Sembilan comprises of picturesque valleys and plains amidst undulating hills and mountains. The rustic villages and lush forests coupled with splendid waterfalls, cool, crystal clear streams, and rivers make it an ideal site for eco-tourism. Negeri Sembilan is also known for its Minangkabau-styled architecture, reflecting the influence of the State's first inhabitants from Sumatra.
History
Negeri Sembilan was settled between the 15th and 16th century by the Minangkabau people of West Sumatra who migrated to the region during the Malay Sultanate in Malacca. At that time Negeri Sembilan was a rather loose confederation of nine fiefdoms in a secluded valley of the region. It was only in 1773, and with Raja Melewar as the Yam Tuan or ruler, that the nine separate fiefdoms of Sungai Ujong, Rembau, Johol, Jelebu, Naning,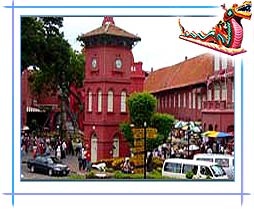 Segamat, Ulu Pahang, Jelai and Kelang were unified.
Negeri Sembilan's modern history then began with British intervention in the districts of Sungai Ujong, Rembau and Jelebu to protect British economic interests and placed the country under the control of a British Resident. The British established their influence by making treaties with the separate states (1874-89) and by reforming them into a closer federation (1895). Negeri Sembilan became one of the Federated Malay States in 1896.
Negri Sembilan endured Japanese occupation in World War II between 1941 and 1945, and joined the Federation of Malaya in 1948, and became a state of Malaysia in 1963.
Climate
Negeri Sembilan has warm, sunny days and cool nights all year round with occasional rain in the evenings. Temperature ranges from 23°C to 33°C. Humidity is high throughout the year. Annual rainfall is 2,670 mm. Although rain falls throughout the year, October to December are said to be the wettest months.
Best Time to Visit
You can visit Negeri Sembilan all round the year. It would be better if you avoid going between October and December, as the rainfall is pretty heavy in these months.
Tourist Attractions / Places to See
Seremban Lake Gardens:
Seremban is the capital of Negeri Sembilan. The lake gardens of Seremban are very scenic. There are two lakes situated amidst a gentle expanse of landscaped greenery that provide a refreshing respite from the heat. Cultural shows are held on a floating stage on one of the lakes. Overlooking the Lake Gardens is the State Mosque, with its nine pillars symbolizing the nine districts of the State.
Cultural Handicraft Complex (Kompleks Taman Seni Budaya):
The Cultural Handicraft Complex, located at Labu Spur, displays various handicrafts and historic artifacts of Negeri Sembilan.
Negeri Sembilan State Museum (Istana Ampang Tinggi):
The state museum, situated within the Cultural Handicraft Complex, houses many historical artifacts of the state. Situated next to the museum is the "Rumah Minang" burned down by the British during the Sungai Ujung war.
Port Dickson:
Port Dickson situated about 32 km west of Seremban, is a very famous seaside resort of Malaysia.
Shopping
Negeri Sembilan has a string of modern shopping complexes and department stores, especially in Seremban. These include establishments like The Store, Parkson, Seremban Parade, Seremban City Square and Centre Point. Duty-free items like exquisite watches and sophisticated photographic equipment are widely available at competitive prices.
How to Reach Negeri Sembilan
The Kuala Lumpur International Airport at Sepang is a mere 30 minutes away from the state capital Seremban. With the completion of North-South Highway, Negeri Sembilan is even more easily accessible from major towns in West Malaysia.
Tourists can also choose to take a train from Butterworth, Kuala Lumpur and Singapore to Seremban, from where frequent buses travel to the popular beach resort of Port Dickson. The rail service to the east coast states of Pahang and Kelantan begins from the town of Gemas.