Location:
Close to Tanjung Rhu, Langkawi
Highlights:
A rock formation that resembles a sleeping princess.
How To Reach:
One can easily reach here by hiring boats from Tanjung Rhu.
The Gua Cerita, literally the Cave of Legends, is a fascinating cave on the island of Langkawi. As the name suggests, it is shrouded in legendary tales of mystery and romance. It is easily reachable by boat from Tanjung Rhu. Gua Cherita comprises two limestone caves sited one above the other. Overlooking the azure waters of the sea, this cave is linked with numerous legends. Every year, thousands of travelers come to have a glimpse of this limestone marvel.
According to the folklore, Gua Cerita is associated with the Battle of the Big Birds. Further, it is said that that once, the Kings of Rome and China planned to marry their children. However, the Garuda (the phoenix), the eagle of Lord Vishnu, opposed the idea because he comprehended that the unification of two such great powers may pose threat to the other small kingdoms. Thus, he kidnapped the Chinese princess and hid her in this cave.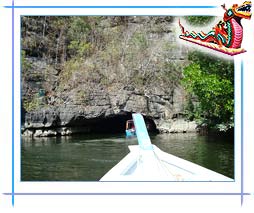 Afterwards, the Garuda went on to crush the forces of the Chinese emperor, Merong Maha Wangsa. The world then witnessed a fierce battle during which the Roman Prince fell into the sea. The waves carried him to the same island where the Princess was imprisoned. Both the souls were united, and Gua Cerita is believed to be the same holy place where the celebrated wedding occurred.
Another legend states that Gedembi, who was giantess having magical powers of transforming anyone into an ox, visited this cave and took up a liking for it. However, the cave was already inhabited by a family of three members. And on their refusal to leave the cave, she turned all the people into stones. Earlier three stones of different shaped existed here, though they have disappeared now. If you dare venture into the cave, you will see a rock formation that looks like a sleeping princess.
In the lower chamber of the cave, you would see the walls etched with some old Arabic script. The inscription acquaints with the story of Sheikh Baharuddin who died on the 9th day of the sixth month in year 68 of the Moslem era. It is believed to have been written in 1754 AD during the reign of Sultan Mohamed Jiwa II of Kedah. Whatever is the story or myth, the fact is that Gua Cherita is a nice place to visit and admire the unique rock formations in Langkawi.