Location:
Oriental Village, Jalan Telaga Tujuh, 07000 Langkawi
Altitude:
700 meters above sea level
Highlights:
Amazing views of the surrounding horizon and rainforests
How To Reach:
One can easily reach here by hiring taxis, or by boarding buses from the island.
A ride in Panorama Langkawi Cable Car is an exhilarating experience in itself. To take a ride, one has to move towards the southwest coast of the main island, which is about 30-minute drive from Kuah Town and only 15-minute from Langkawi International Airport. From the cable car, you can enjoy the panoramic views of the historical, natural and other distinct places of interest. Its three different stations are located at different altitudes.
The Oriental Village, the shopping center at the foothill of Gunung Mat Chinchang, serves as the base station for the cable car which further takes the visitors all the way up to Mount Mat Cinang, the second highest peak in Langkawi. Once into the car, the cable-car soars, and you'll discern the dropping temperature and cool breeze flowing into the cabin through ventilation slits at the top. While it gets cooler, the scenery below starts to appear smaller.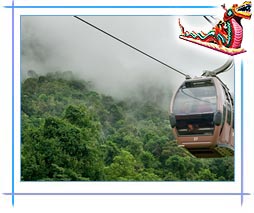 You can see beautiful rainforests below and the cascading waters of Telaga Tujuh Waterfalls at the side. After approx. 600 meters above sea level, the cable-car reaches the middle station, where you can either take another cable car to reach the peak, or check out the beautiful surroundings from the observatory deck. People usually don't spend much time here, since the view from the peak is absolutely stunning.
Get into a short queue, and check into another cable car which doesn't rise very sharply, however, the initial jerk of the car leaving the second station can be pretty frightening. As the car ascends, passengers get pleased to see the higher view of the rainforest and hills below. In less to not time, you'll arrive at the final station which is coolest point of this journey. This top station is host to numerous stalls that sell souvenirs, toys, snacks and drinks.
To reach the observatory deck, you have a take a flight of stairs through a forest. Once you reach the top, an amazing view of the surrounding horizon, the island's landscape, skyline and far seas awaits you. On one side, there is a sky bridge suspended across Mount Mat Cincang and a neighboring mountain; walking crossways this bridge is an incredible experience. After pleasing your eyes with the striking views, it's time to go, and the whole journey of cable-car incline is repeated in the descending route.