Location:
On the north coast of Langkawi Island
Highlights:
Datai Golf Course
How To Reach:
One can easily reach here by hiring taxis or boarding buses from the island.
The Pantai Teluk Datai, literally Datai Bay Beach, is amongst the premier beaches of Langkawi Island. It is generally typified by boulders at its both ends and dense forest in the background. To be found on the north coast of Langkawi, Datai Bay is the area where some of the most luxurious resorts and private villas of the island are located. It is locally known as a stunning alcove facing the Andaman Sea, where the lush forests merge with the azure waters.
The beach overlooks the quaint little island of Pulau Anak Datai. Teluk Datai is also quarters to the Datai Golf Course, which is one of the major attractions of the region. Nestled on the edge of the rainforest, this 18 ball, 72-par golf course is encircled by lofty tropical trees. Its 'Signature Hole' poses a challenge even for the expert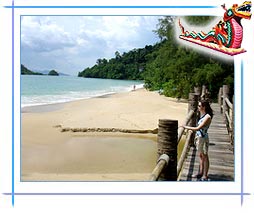 golfers. On the beach, the travelers can take pleasure in a range of water sports like boating, yachting, scuba diving, windsurfing, and snorkeling.
The proximate Gunung Matcincang offers not only panoramic but also spectacular views of the beach and the horizon. From here, the far-off small islands appear like dots. Datai Bay makes a preferred haunt of the travelers due to its picturesque setting in the very lap of nature. Its most captivating features are the shimmering sandy beach and the gushing waves. To put in short & snappy terms, Teluk Datai is a great place to chill out in a soothing locale.