Location:
Teluk Hu, Langkawi
Highlights:
Handmade batik, crystal items, wooden products, etc.
How To Reach:
One can easily reach here by hiring taxis, or by boarding buses from the island.
The Craft Cultural Complex, in Langkawi, is a major attraction for tourists visiting the island. It is sited on the northern coastline of the island at Teluk Yu in Mukim Bohor, which is about 21kms from Kuah town via Ulu Melaka Road. This magnificent complex is dedicated to the Malaysian handicrafts. Here, one can find an exclusive assortment of craftwork items that range from forest-based products, fabrics, ceramics, metal artifacts to beautiful art objects.
This one-stop arts and crafts centre was made with the aim to maintain and promote the rich cultural heritage of Malaysia. Once inside the complex, you can see a heritage museum that showcases a number of handicrafts representing the various Malaysian ethnic groups. Some of the prominent crafts at the museum consist of handmade batik, crystal products, ceramics, wood products, baskets, rattan-based products, and costume jewelry.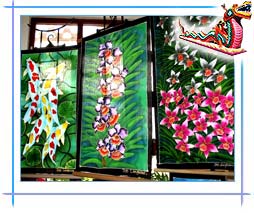 Besides, check out the beautiful silverware and brassware in numerous shapes and forms embellished with motifs inspired by nature. At the workshop, explore the techniques of producing local crafts like that of weaving, batik painting and wood carving. The baskets, on display, are woven in colorful ethnic designs using rattan, mengkuang and pandan leaves. Wood products carved with intricate patterns also present a brilliant sight.
The most popular craft, out of all others, is the hand-drawn and printed batik that is available in innumerable exclusive designs. Scores of skillfully and intricately crafted things, found here, are resultant of the skill and creativity that have been passed down from ancestors. Songket or a silk material interwoven with gold and silver threads, which is symbolized with Malaysian culture, is also available here. Last but not the least; you can browse the sales gallery in the complex to get some really nice souvenirs.