Location:
5km south of Langkawi Island
Highlights:
Fishermen villages, exotic flora and fauna
How To Reach:
One can easily reach here by hiring speedboats from Kuah Jetty.
Pulau Tuba is a strikingly beautiful island which is 5km south of Langkawi Island. It is one of the only two inhabited islands of Langkawi archipelago. Tuba Island owes it name to tuba roots, which are abundantly found on the island. In geographical terms, Pulau Tuba is a mountainous island with very little plains. It boasts of picturesque beaches and serene locale. Its mesmerizing beauty is granted by the cool white waves, amazingly vast expanse of azure waters and lush green tropical rainforests.
Besides all other things, Tuba Island is a natural habitat of numerous fascinating wild creatures. So, this makes it an ideal place for bird-watching and jungle-trekking. It's moreover great to go for hiking through dense forests and get the glimpse of some elusive creatures and perceive the flora and fauna. This quaint island is utilized by travelers to relax and enjoy the beautiful tropical vistas. Also, if you wish, you can take on long clam walks along the sandy beaches while enjoying the quietude of lapping waves and bird calls.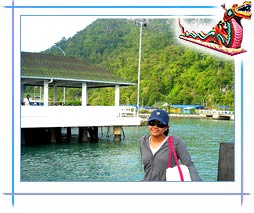 On seeing the horizon, you would see lovely small islands which are covered with wild vegetation stretching all the way to Thailand. Since the island is fairly undeveloped, there are very few options of accommodation such as a resort and a few home stay programmes. It is address to numerous groups of traditional fishermen who offer home stays organized by the Fisheries Development Authority of Malaysia. It's good to try out these staying options, as they will give you the opportunity to personally experience the lifestyle of the dwellers.
Apart from fishing, the fishermen do a little farming, rear animals and mend their orchards. Home stay programmes give them an extra income. The Pulau Tuba has a rich growth of medicinal herbs and shrubs, which are garnered by the fisher folks. In addition, wax and honey are habitually collected and sold by the fishermen to complement their family income. The women on the island are also skilled in making mats and other handicraft items. To put in short terms, Tuba Island is an enlightening and soothing place to visit in Langkawi.