Location:
Pantai Kok, Langkawi
Significance:
It is one of biggest ports in the region.
How To Reach:
One can easily reach here by hiring taxis, or by boarding buses from the island.
The Telaga Harbour Park is a beautiful yachting marina that was developed by the Langkawi Development Authority (LADA). Initially the area was a fishing village, but was later transformed into a prime tourist attraction. To be found on the southwest coast of Langkawi in Pantai Kok, the marina was built to promote the island as a major sailing destination. This beautifully-landscaped harbor is designed like the French Riviera.
The Park is sprawled in an area of 32 acres, and thus, is exclusively designed for berthing yachts of various sizes ranging from small sized yachts to mega size yachts. On the whole, 50 yachts of 20meter can be accommodated here. However, if the yachts are of larger size (30 to 50 meters), seven such yachts can be berthed. The stationed yachts provide a pictorial backdrop to the entire setting of the park.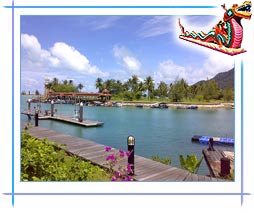 It also consists of a 36 meters pontoon for fishing boasts. The harbour makes a safe place for international yachts to dock since it is sheltered. Moreover, the available services and facilities, like petrol pump, bank with ATM machines, mini mart and bakery store, make it an ideal destination for transient and home base of yachts. It is a complete entertainment zone together with good music and food at the cafes and bistros sited along the harbor.
Appreciate the quaint sunset from the terrace of Mare Blu or the beach. Besides, try your hand at the water activities, sailing and boating in the sparking waters. For sure, a visit to this park would be absolutely cherishing. Annually, the International Water Festival of Langkawi is held in Telaga Harbour Park. Encircled by tropical rainforest and white sandy beach, Telaga Harbour Marina is a prefect place to enjoy in the serene environment.