Also Called:
Thai Poosam Kavady
Duration:
1 day
Celebrated by:
Hindus
Attractions:
Different Kavadis, Procession etc
Celebrated largely by the Tamil population, Thaipusam is an important Hindu festival. Like other festivals, Thaipusam too, is celebrated with zeal and fervor in Malaysia. Observed on the full moon of Tamil month - Thai (Jan/Feb), it is marked as a day for penance and atonement among the Hindus. This festival doesn't only commemorate the birthday of Lord Murugan - the youngest son of Lord Shiva and Godess Parvati, but also the occurrence when Parvati presented to Murugan a vel (lance) to annihilate the wicked demon - Soorapadman.
For Hindus, it's a time to fulfill the vow, they have made to Lord Murugan. Devotees who take pledge to bear body-piercing 'Kavadi' get ready for the fête by cleansing themselves through prayer and fasting. At the time of assuming 'Kavadi' and when it is offered to Lord Murugan, elaborate ceremonies take place. During the period, Kavadi-bearer observes abstinence and eats food only once a day whilst thinking of the supreme.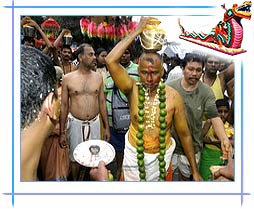 As a matter of fact, hooks and pins pierce the flesh but hardly any blood is observable and devotees appear in trance without having any pain. Devotees believe that greater would be pain, more would be the merit. It is believed that Lord Murugan prevents the pain and bleeding. On the pious day, devotees, who don't take 'kavadis' carry a pot of milk as their offering to the God. Accordingly, people spear through their tongue or cheeks, and sometimes, get hooks stuck into the back while remembering Lord Murugan throughout the journey.
Ethnic Chinese can also be seen participating in the event. Batu Caves, in Selangor, makes the major site for the festival in Malaysia. People from far and near come to celebrate the occasion of penance. In Kuala Lumpur, a procession amid a decorated chariot comprising the idol of Lord Murugan starts from Sri Mahamariamman Temple and proceeds to the caves. One must see the earnest celebrations of Thaipusam in Malaysia which is a life-time experience.