Location:
400 meters from Kuah Jetty, Langkawi
Highlights:
Exotic sculptures and crafts
How To Reach:
One can easily reach here by hiring taxis, or by boarding buses from the island.
The Taman Lagenda, literally Lagenda Park, is an unusual park to be found on the beautiful island of Langkawi. Located within a walking distance from Kuah Jetty, it is actually an open-air museum spread in 50 acres of land. If to be stated in real terms, Taman Lagenda is a park devoted to the legacy of myths and legends of Langkawi. Like other parks, this one too, has a stretch of flowers, shrubs and fruit trees along pathways and ponds.
Besides the lush vegetation, the park boasts of 17 sculptures that give a picture of the legends, shrouding the island. One can also witness a man-made beach and 4 artificial lakes, which together provide a breathtaking backdrop for sculptures. If truth to be told, this is one of the best places to see in Langkawi in case you're on a tight schedule. Lagenda Park symbolizes a legendary park, which beautifully depicts several mythical stories including the legends of two heroic giants, mythical birds, evil ogres and beautiful princesses.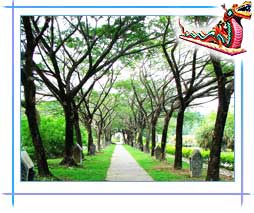 Out of numerous myths and legends about this island, the combat between Mat Raya and Mat Cincang is the most fascinating. It is believed that their duel caused the creation of many new places in Langkawi like Gunung Raya, Gunung Mat Cincang, Kuah, Ayer Hangat, Tanjung Cincin, and Belanga Pecah. Within the park, one can see some real good specimens of traditional Malaysian handicraft and cultural objects.
This well-maintained park is ideal to go on a stroll and enjoy the picturesque surroundings with loved ones. It also offers a romantic pathway, which lies just before the sculpture of giant hands, hugging the umbrella-shaped trees. Moreover, this beautifully laid-out park also acts as a picnic spot for locals. Indeed, it is the best place to enlighten yourself, precisely, about the legends. So, on your visit to Langkawi, don't miss to visit this legendary park.